a
Naval Forces News - USA
Raytheon's JSOW C-1 Variant Gliding Weapon Scores Direct Hit in First Operational Test
Raytheon Company and the U.S. Navy have conducted a successful operational test of the new Joint Standoff Weapon (JSOW) C-1 gliding, precision-guided weapon. Conducted in a challenging flight environment, the test further demonstrated the capabilities of JSOW C-1 against a broad set of land targets.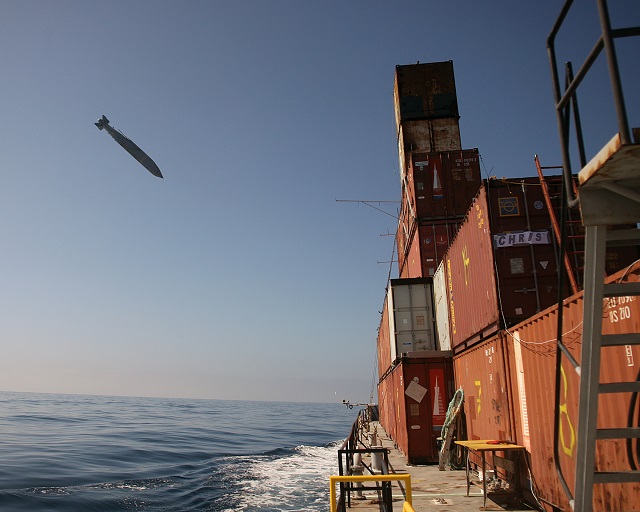 A Joint Standoff Weapon (JSOW) C-1 in flight off the coast of California in 2011. A JSOW C-1, similar to the one pictured, completed it last free-flight test as part of integrated test and evaluation in January 2015. (U.S. Navy photo)
Launched from an F/A-18F Super Hornet at approximately 29,000 feet, the JSOW C-1 flew a flawless, preplanned route before destroying its intended land target with precision accuracy. The challenging battlefield scenario included a well-defended target that used tactical countermeasures.

"This test demonstrated yet again JSOW's ability to deliver decisive battlefield effects with precision stand-off capability against some of the most challenging land targets facing our warfighters," said Celeste Mohr, JSOW program director for Raytheon Missile Systems. "Naval aviators also recently employed JSOW C in a tactically realistic, cave-defeat scenario that included heavy radio frequency countermeasures. The result was two direct hits."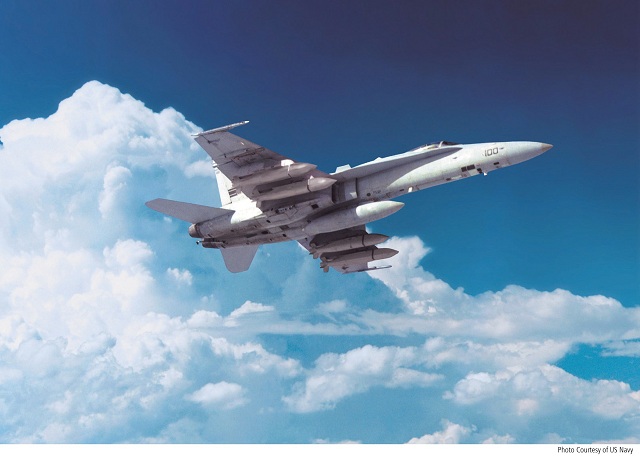 US Navy F-18 with JSOW (Picture: Raytheon)
The new JSOW C-1 combines the proven, precision, standoff land attack capabilities from JSOW C, with the new, state-of-the-art Link 16 data link to also engage moving maritime targets. The JSOW C-1 variant adds a two-way Link 16 data link to engage and destroy moving targets, as well as stationary land targets.

This initial operational test shot was preceded by seven-for-seven, equally successful employments against both stationary land targets and maritime moving targets during the developmental and integration test phases. It paves the way for the next phase of operational testing against large and small maritime moving targets.

JSOW C and C-1 are designed to provide fleet forces with robust and flexible capability against high-value targets, at launch ranges exceeding 100 kilometers.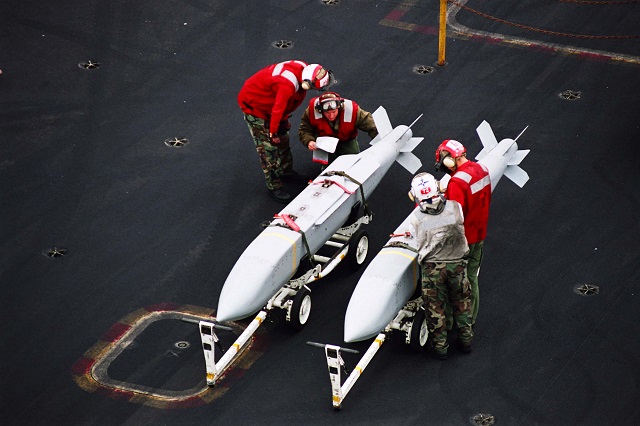 Aviation Ordnancemen assigned to G-1 Division inspect Joint Stand Off Weapons (JSOW) aboard USS Abraham Lincoln (CVN 72) before transferring them to waiting aircraft. Picture: US Navy
About JSOW
JSOW is a family of combat proven, low-cost air-to-ground weapons that employ an integrated GPS-inertial navigation system, with highly capable guidance algorithms; and is the only U.S. standoff weapon in production to fit internally in the Joint Strike Fighter. More than 5,000 JSOWs have been produced since 1997, with more than 400 employed in combat. JSOW C prosecutes stationary land targets, and uses an imaging infrared seeker for increased accuracy in the terminal phase. The JSOW C-1 variant adds the two-way Strike Common Weapon Datalink enabling additional target sets with critical moving maritime target capability.