a
Sea Air Space 2016 Online Show Daily - SAS 2016 Press Release
Top Military Leaders Will Take Center Stage at Sea-Air-Space 2016

Chief of Naval Operations Adm. John M. Richardson, Coast Guard Commandant Adm. Paul F. Zukunft and Maritime Administrator Paul N. Jaenichen will participate in the "Service Chiefs' Update" panel discussion at Sea-Air-Space: The Navy League's Global Maritime Exposition. Sea-Air-Space will take place May 16-18 at the Gaylord National Convention Center in National Harbor, Md. Also invited to participate is Gen. Robert B. Neller, commandant of the Marine Corps. The "Service Chiefs' Update" is exclusive to Sea-Air-Space and the only place each year where the four heads of the U.S. sea services appear together to discuss issues of import to their respective services and the nation.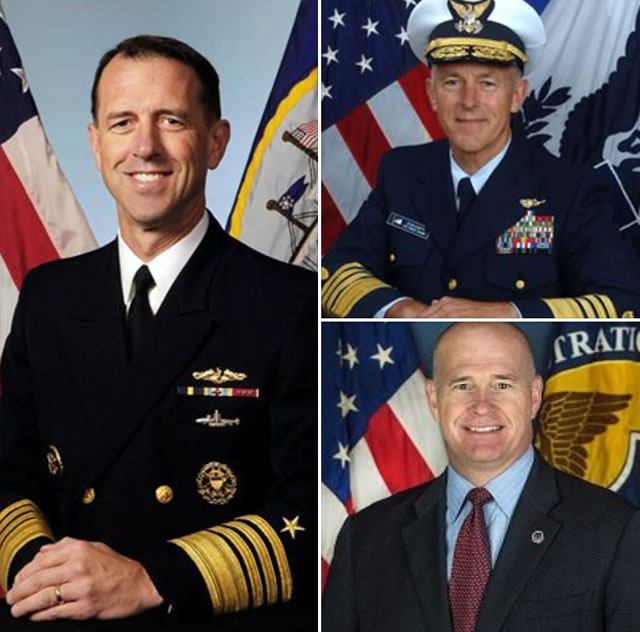 Chief of Naval Operations Adm. John Richardson, Coast Guard Commandant Admiral Paul Zukunft and Maritime Administration's Paul N. Jaenichen will participate in the "Service Chiefs' Update" panel discussion at Sea Air Space 2016.
Other popular panels returning in 2016 include the International Naval Leadership Panel, "Naval Technology 2025 and Beyond," and the Information Warfare Panel, "Security Challenges & Solutions in the Maritime Domain." Invited to speak on the Information Warfare Panel are: Vice Adm. Jan E. Tighe, commander of the Navy's Fleet Cyber Command/10th Fleet, Rear Adm. Marshall B. Lytle III, commander, Coast Guard Cyber Command; Rear Adm. Nancy A. Norton, director of Warfare Integration for Information Dominance for the Navy; Brig. Gen. Loretta E. Reynolds, commander, Marine Corps Forces Cyberspace Command; and Navy Capt. David H. McAllister, director of Intelligence at U.S. Transportation Command.

"This is the largest, most in-depth, professional development schedule that we have ever produced for Sea-Air-Space," said Kevin Traver, the Navy League's staff vice president of Corporate Affairs. "Topics are wide ranging, but include major focus on cutting-edge themes like information warfare, unmanned vehicles, A2/AD issues and international partnerships."

The conference program will impart perspectives from a robust international speaker program representing more than 25 nations, including confirmed speaker Admiral Sir Philip Andrew Jones, KCB, incoming First Sea Lord, Royal British Navy.
Video: Why Visit SAS 2016
Recently named to Trade Show Executive magazine's "Fastest 50" list of shows in 2015 in terms of number of exhibiting companies and total attendance, Sea-Air-Space features more than 250 exhibitors — including 20 military commands — displaying the latest in maritime, defense and energy technologies. Contributing to the expansion plans for 2016 are an additional 20,000 square feet of outdoor exhibit space for oversized products and vehicles, the Navy Information Warfare Pavilion, the Australia Pavilion and a Marine Corps Zone.

Sea-Air-Space attendee registration is free to U.S. military, government and other qualified individuals. Attendee registration, event tickets and trade fair details are available at seaairspace.org. Conference Schedule updates are posted frequently, check back here.