a
Naval Industry News - Australia
Royal Australian Navy Air Warfare Destroyer Hobart's Main Engine Revs Up for the First Time
ASC and the Air Warfare Destroyer (AWD) Alliance this week marked another major milestone in the construction of Ship 01 with the 'main engine light off' - or starting of one of the main engines that will drive the ship's propellers.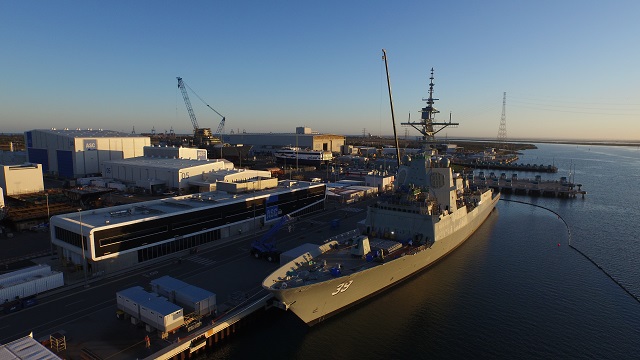 Hobart, the first of three air warfare destroyers, seen here moored at ASC shipyard at Osborne.
Picture: AWD
he large 5650kW Bravo V16 Propulsion Diesel engine burst into life on Thursday, 14 April, in an engine room deep below the main superstructure of the ship.

It will drive the port-side propeller while the other Bravo propulsion diesel, to be started in coming weeks, will drive the starboard prop. They will provide the propulsion power for Ship 01 to travel at low speeds, while higher speeds will be achieved by two gas turbines, which are yet to be commissioned on the ship.

Platform Test and Activation Manager Mike Clements said the successful commencement of Main Engine Light-Off (MELO) was a testament to the work completed by hundreds of AWD personnel across the shipyard in bringing the ship's systems and engine to this point.

"Main Engine Light Off is a major milestone for any warship and the starting of the MELO activities this week is a great achievement for everyone who has contributed to the ship to-date," Mike said.

ASC and its AWD partners are fast-approaching the completion of Ship 01 -- the Hobart. It was launched in mid-2015 and will commence sea trials later this year.

The AWD Alliance continues to make productivity improvements across the three-ship build, with a 39 per cent improvement for Ship 02 and a further 14 per cent improvement on Ship 03.

The main propulsion engines were made by Navantia in Spain and transported to Australia by barge. There are a further four diesel generator engines on board for the ship's electrical power that have been commissioned and are currently undergoing parallel testing.

In coming months, once MELO is complete, the propulsion engines will be connected to the propellers and 'dock trials' conducted, in which the engines turn the propellers while the ship remains roped to the dock.