a
Naval Forces News - Germany
German Navy F123 Frigate and K-130 Corvette to conduct fire tests off the coast of Norway
By Stelios Kanavakis

The German Navy will conduct fire tests off the coast of Norway between 18 and 29 April. Two surface units will engage targets with their missile systems at the Andoya Test Centre, off the coast of Andennes in Norway.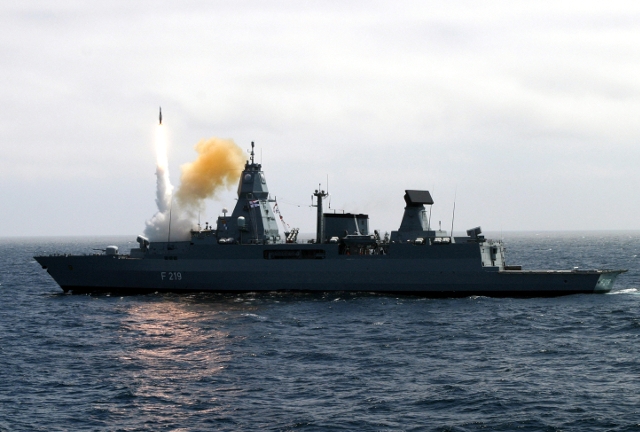 Photo - "FGS Sachsen firing a Sea Sparrow missile from its Mk41 Mod3 VLS" (Source: German Navy)
The two combat units will be the Blohm+Voss F123-type frigate "Mecklenburg-Vorpommern" and the TKMS
K-130-type corvette
"Olbenburg". A P-3C Orion maritime patrol aircraft and a Sea Lynx helicopter will also take part in the exercise.
The Andoya Test Centre includes an area of 4,000 sq.km. It is equipped with modern instrumentation, telemetry and tracking systems, allowing straight trajectory weapons firing at distances of up to 100 km.
The F123-type frigates have ASW as their primary mission. They have a displacement of 4,700 tonnes. Their sensors include a Thales LW08 D-Band air search radar, a Thales SMART-S F-Band surface radar, a Thales STIR-180 fire-control radar, two Raytheon Redpath I-Band navigation radars, a low-frequency active sonar system (LFASS) towed array and a mounted sonar by STN Atlas.
These sensors are used to control and guide the main weapons, which are two twin MBDA MM-38 Exocet launchers, a Lockheed Martin Mk41 Mod3 VLS with 16 cells for NATO Sea Sparrow missile, two RAM systems with 21 cells each, two twin ATK Mk46 torpedo launching tubes, an Oto Melara 76/62 main gun and two Rheinmetall Rh202 20mm guns.
The K130 corvettes are equipped with Thales TACTICOS combat management system, Thales Mirador optronics sensors, a TRS-3D multifunction radar, two navigation radars and the UL 5000 K ESM/ECM suite. Their weapons include four launching tubes for Saab RBS-15 anti-ship missiles, two 21-cell RAM systems, an Oto Melara 76/62 gun and two Rheinmetall MLG 27 guns.