a
Sea Air Space 2016 Online Show Daily - DARPA& ONR
SAS 16: DARPA and ONR ready ACTUV unmanned vessel for open-water testing

The recently christened ACTUV unmanned vessel will soon undergo a comprenhensive trials campaign. ACTUV is a 130-foot twin-screw trimaran, designed for enhanced stability in all kinds of weather. It has a number of unusual features because it does not need to accommodate people. For example, interior spaces are accessible for maintenance but aren't designed to support a permanent crew.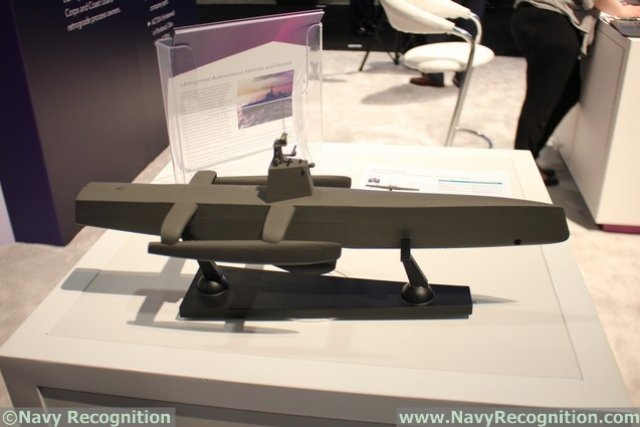 The ACTUV unmanned vessel highlighted on Leidos' booth at Sea Air Space 2016 exhibition
The ACTUV has been developed by Leidos as prime contractor for the Defense Advanced Research Projects Agency (DARPA), and construction took place at the Vigor Shipyard in Portland, Oregon.
But of broader technical significance is that ACTUV embodies breakthroughs in autonomous navigational capabilities with the potential to change the nature of U.S. maritime operations. Through at-sea testing on a surrogate vessel, ACTUV's autonomy suite has proven capable of operating the ship in compliance with maritime laws and conventions for safe navigation—including International Regulations for Preventing Collisions at Sea, or COLREGS. ACTUV accomplishes this feat through advanced software and hardware that serve as automated lookouts, enabling the ship to operate safely near manned maritime vessels in all weather and traffic conditions, day or night.
ACTUV is designed to normally operate under sparse remote supervisory control but can also serve as a remotely piloted vessel, should the mission or specific circumstances require it. In either case, it would operate at a fraction of the cost of manned vessels that are today deployed for similar missions.
In September 2014, DARPA signed a Memorandum of Agreement (MOA) with the Office of Naval Research to jointly fund an extended test phase of an ACTUV prototype. DARPA will collaborate with ONR to fully test the capabilities of the vessel and several innovative payloads during open-water testing scheduled to begin this summer off the California coast after preliminary checkout and movement to San Diego. Pending the results of those tests, the program could transition to the U.S. Navy by 2018.