a
Sea Air Space 2016 Online Show Daily - Esterline
SAS 2016: Esterline exhibits full range of Codis naval specific displays

Esterline Control & Communication Systems, a division of Esterline Corporation, and a world leading aerospace and defense manufacturer, exhibits its Codis range of naval specific displays and equipment at the Navy League's annual Sea-Air-Space exposition, May 16-18 2016.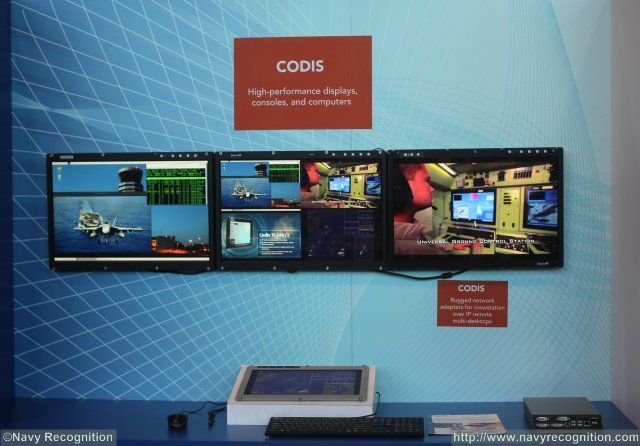 Esterline's Codis family of displays at SAS 2016
Having worked with navies around the world for more than 30 years, Esterline's Codis products are designed to meet the demanding requirements of upcoming naval programs. Codis rugged displays are built to military standards and feature high performance ergonomics with improved image quality, glove compatible Projected Capacitive multi touch (allowing four simultaneous touches), and LCD Flicker Compensation (LFC). The screens work in up to 95 percent humidity and are protected against salt fog and sand damage, and can operate in the most severe naval environments.
Esterline will also be displaying its Crewstation-over-IP capabilities of the Real-time Network Adapter (RNA), which provides real-time keyboard, video, mouse and audio switching and collaboration using open standard networks. Esterline's Human-Machine Interface (HMI) integration capabilities are also highlighted using a Codis Vista 500/600/700 console, which combines high performance displays and RNAs with input devices and computing for qualified zero-client, thin-client or workstation solutions.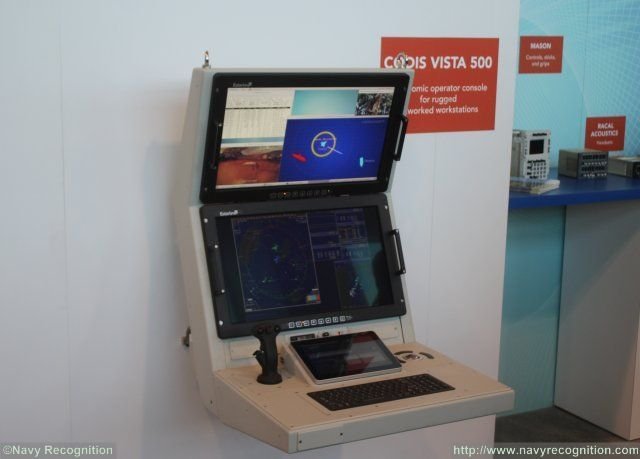 Esterline's Codis Vista 500 rugged console for mission-critical applications in shelter and naval environments
Ron Farine, vice president for Esterline Federal, said "Esterline is proud of its long-term relationships with navies worldwide. These relationships have really helped us to understand our customers' needs and to develop high quality components and systems that work in the toughest conditions, when they're needed the most. Codis products integrate together to provide naval personnel with complete situational awareness solution using smart displays, rugged computers and HMI consoles. Our global presence ensures that support is always available for teams to help navies to get the most from their products at all times. Sea-Air-Space is a great platform to demonstrate how Esterline can work with naval teams."
Also on display at Sea-Air-Space will be several of Esterline Control & Communication Systems other brands, which integrate with CODIS products, including Racal Acoustics' new ELITE hearing protection system. This integrated HMI solution provides a plug-and-play in-ear headset and switch-box combination that delivers world-class noise attenuation, local sound awareness at safe levels, and top-quality natural-sounding audio.
Visit Esterline at the annual Sea-Air-Space exposition, May 16-18, 2016, booth #2818.