a
Naval Forces News - France
nEUROn goes naval – DGA to flight test the UCAV alongside French Navy Aircraft Carrier
By Stelios Kanavakis - Senior Defence Analyst
The French Procurement Agency (DGA) has initiated its new project that aims at taking UCAV nEUROn to the seas. The first flight test took place on 17 May at Istres Air Base in France. DGA will overview the new project that will evaluate the unmanned combat air vehicle's capability to operate in a maritime environment.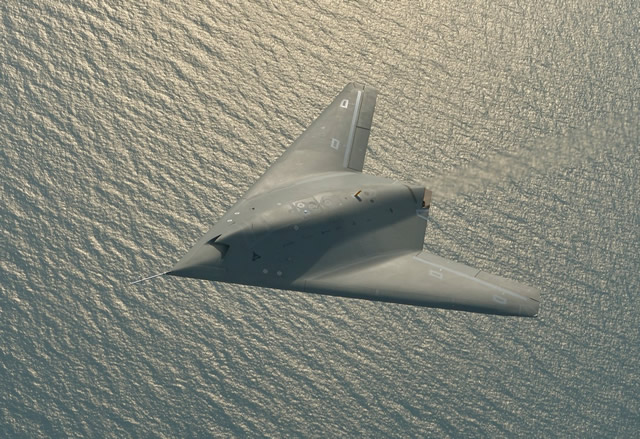 The Dassault nEUROn is an experimental unmanned combat aerial vehicle (UCAV) being developed with international cooperation, led by the French company Dassault Aviation.
Picture: Dassault Aviation
Under this project, DGA will carry out test of nEUROn at sea, in cooperation with the French Navy's aircraft carrier Charles de Gaulle. These tests will test the capability of the vessel's sensors to cooperate with and track the stealth characteristics of the UCAV.

At sea trials will be followed by a series of electromagnetic tests at DGA's infrastructure at Bruz, near Rennes, that will be concluded at the beginning of 2017.
Scale models of nEUROn UCAVs aboard a DCNS aircraft carrier at Euronaval 2012. (Illustration only, the current tests will consist in interactions with the aircraft carrier i.e. no arrested landings or catapult launch will take place).
The nEUROn development is a joint programme involving France (Dassault), Italy (Alenia) Greece (HAI), Sweden (Saab), Spain (former EADS-CASA) and Switzerland (RUAG). It was launched in 2003 and started its materialization in 2005, after the members of consortium signed the funding agreement.

The first flight took place on 1 December 2012, at Istres Air Base in France. Low observability and electro-optical performance tests had been completed by mid-2015. The next step will be to undertake a series of low observability and weapon delivery trials in Sweden.