a
Naval Defense Industry News - USA, France
French Navy Considering BAE Systems Mark 45 5 Inch Naval Gun for FREMM Frigates Upgrade
By Xavier Vavasseur - Chief Editor
At the Navy League's Sea-Air-Space 2016 exposition held recently near Washington D.C., Navy Recognition learned that the French Navy (Marine Nationale) has requested detailed information from BAE Systems on the Mark 45 naval gun system, automated handling system and the extended range precision guided munitions (SGP and HVP).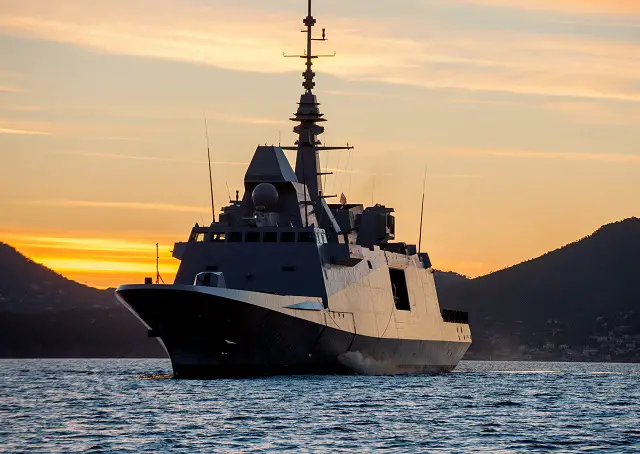 French Navy FREMM Frigates are currently fitted with 76mm main guns by Oto Melara.
Picture: Y.Bisson©Marine Nationale

Talking to
Navy Recognition
during Sea Air Space 2016, John Perry, Director of Business Development explained "
we provided this information [to the French Navy] as they make their decision going forward for the FREMM upgrade program
".
5 Inch Mark 45 gun:
The Mod 4 variant of BAE Systems' 5 Inch Mark 45 gun offers modern digital control system and longer 62 caliber barrel providing longer range (unguided range increased to 20 nautical miles or 37 Kilometers).
New automated handling system:
At SAS 2061, BAE Systems
unveiled a scale model
representative of the new fully automated 5 Inch Mark 45 main gun loading system to be fitted on the Royal Navy's Type 26 Frigates. This new loading system leverages technologies developed for the DDG 1000 Zumwalt class destroyer. It improves the rate of fire, the sustainment of fire as well as the crew safety.
SGP:
BAE Systems Standard Guided Projectile (SGP) will deliver 5-Inch fires at a maximum rate of 10 rounds per minute to 52 nautical miles (96 Kilometers). It offers rapid time of flight and the capability of in-flight retargeting to address moving targets, changing target conditions, and surface threats.
HVP:
The Hyper Velocity Projectile (HVP) is a next-generation, common, low drag, guided projectile capable of executing multiple missions for a number of gun systems. Types of missions performed will depend on the gun system and platform, but range from Naval Surface Fire, to Cruise and Ballistic Missile Defense, Anti-Surface Warfare and other future Naval mission areas.
Video from Sea Air Space 2016 on the new handling system for Mark 45 guns

While the French Navy initially contacted BAE Systems on these naval weapon systems for the next generation FTI frigates, as we reported in January, it now appears that the interest would be to fit the 127mm Mark 45 on the FREMM (according to sources who wished to remain unnamed, FTI are set to get 76mm guns).
Contacted by
Navy Recognition
, a DCNS representative could not comment on the FREMM upgrade program.
Navy Recognition
contacted the French Navy public affairs on Monday, Tuesday and Wednesday but no one got back to us to comment on the topic.
Update 04/06/2016:
A French Navy PAO got back to us on Friday and confirmed that discussions were held with BAE Systems regarding Mk45 naval guns.

Navy Recognition
comment:
The FREMM, Aquitaine-class, frigates are currently being inducted in the French Navy fleet (with
the first three of eight on order delivered
so far). Any upgrade program is not likely to happen soon. This is unless the French Navy decides to take the 76mm Oto Melara guns off some the eight FREMMs in order to install them on the five future FTI mid-size corvettes. Another possibility is that the French Navy is interested in the Mark 45 for the last two FREMM frigates which will be
air defense vessels (dubbed FREDA for a time and now FREMM DA)
. These ships will be based on the Aquitaine-class ships but will feature a number of modifications such as a more powerful radar and different VLS configuration to deploy MBDA's ASTER 30 long range surface-to-air missiles. Therefore different naval gun systems for these two frigates would not be surprising. As a matter of fact,
Navy Recognition
learned that the French Navy considered at some point fitting a second medium caliber gun on top of the helicopter hangar in a similar fashion to the Italian Navy FREMM ASW variant (Fasan-class). But the French Navy dropped the idea since. What is certain is that the French Navy is keeping a close look at the latest developments in extended range precision guided munitions. This was recently confirmed to us by Laurent Sellier, the DGA head of naval weapon systems (French procurement agency).