a
Balt Military Expo 2016 Online Show Daily - Kelvin Hughes
Kelvin Hughes showcases its SharpEye at Balt Military Expo 2016 in Poland
From 20th to 22nd June, Kelvin Hughes is exhibiting at Balt Military Expo 2016, the 14th Baltic Military Fair, which is being held at the AMBEREXPO Exhibition & Convention Centre in Gdansk, Poland.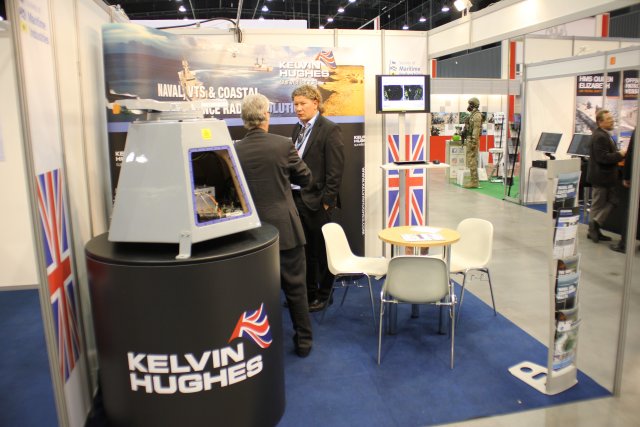 The Kelvin Hughes SharpEye at Balt Military Expo 2016 (Photo NavyRecognition)
Running since 1998, Balt Military Expo focuses on the latest defence systems for maritime safety and security and is taking place in the context of the 'Countering Threats at Sea' programme which will take the Polish naval fleet into a new technological dimension.

For Kelvin Hughes, whose stand will be part of the British Pavilion organised by the Society of Maritime Industries, the event represents an excellent opportunity to demonstrate the company's industry-leading SharpEye™ solid-state radar technology, including the company's latest Naval Radar Display and the innovative carbon fibre turning unit.

SharpEye™ systems are currently deployed by 25 of the world's navies and Kelvin Hughes was recently awarded a contract to supply its state-of-the-art radar transceivers for more than 60 Royal Navy ships, submarines and shore facilities.