a
Balt Military Expo 2016 Online Show Daily - CTM
CTM showcases Underwater stabilized sensor platform for Mine Counter Mesures operations
CTM (Centrum Techniki Morskiej - Centre of Maritime Technology), a Polish company member of PGZ Polish Armament Group showcases for the first time an Underwater sensor platform designed for Mine Counter Measures (MCM) operations at Balt Military Expo 2016.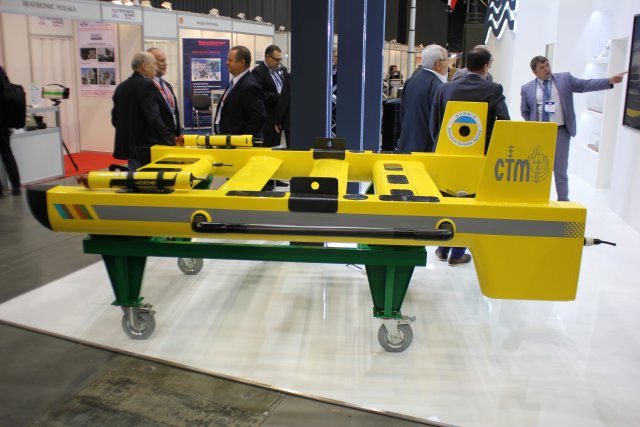 The CTM Underwater sensor platform at Balt Military Expo 2016 (Photo NavyRecognition)
Underwater sensor platform was developed by OBR CTM within BURMIN (BURied MINes) project carried out by a consortium of several european companies including: TUS - leader (France), TNO (NL), RMA (Belgium), IPHT Jena (Germany), Atlas Elektronik (Germany) and CTM (Poland) in an European Defense Agency's UMS (Unmanned Maritime Systems) project.

This platform can be equipped with different types of hydroacoustic and magnetic new generation sensors. The Platform can be towed by motorboat or small unmanned surface vehicles. It allows detection and classification of mines including buried in bottom sediments. The platform is stabilized at set altitude over sea bottom with use of autopilot that simultaneously minimizes its pitch and roll.