a
Balt Military Expo 2016 Online Show Daily - MMC & Remontowa
MMC & Remontowa Shipbuilding Unveiled a Stealth Logistic Support Vessel Project
By Xavier Vavasseur - Chief Editor
At the 14th Baltic Military Fair BALT-MILITARY-EXPO 2016 held in June in Gdansk, Poland, MMC Ship Design & Marine Consulting Ltd (MMC) & Remontowa Shipbuilding (Remontowa) unveiled a novel concept: A Stealth Logistic Support Vessel. MMC is an independent design company specializing in ships for the offshore industry and specialist ships. Remontowa is a member of Remontowa holding and a leading shipyard in Poland.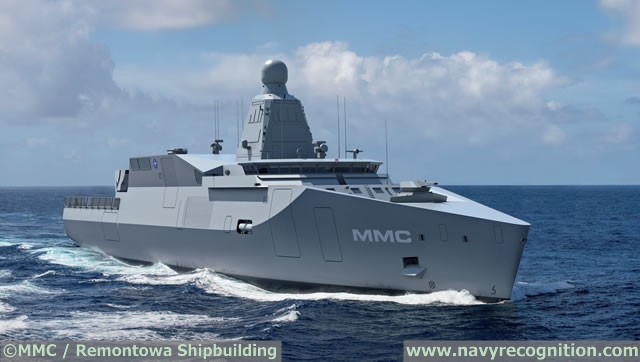 Artist impression: Stealth Logistic Support Vessel underway

MMC and Remontowa are partner in this project which was launched recently to answer a future Polish Navy need for ocean going support vessel(s). The main characteristics of the vessel are the following: Length over all 116.36 meters; Maximum Breadth 17.90 meters; Displacement of 6,100 tons.

The vessel is able to navigate in moderate ice conditions and offers NBC (nuclear, biological, and chemical) protection to its crew of 60 sailors.

Some of the key attributes of the vessel (especially for a logistic support vessel) is that it features reduced thermal signature and reduced radar cross section. This is achieved in part thanks to the underway replenishment (UNREP) masts being sheltered inside the hull: When the vessel is not conducting UNREP opreations, the hull is completely flush. There are four masts for liquids and solid stores up to 1 ton and one more sheltered UNREP mast for liquids at the stern.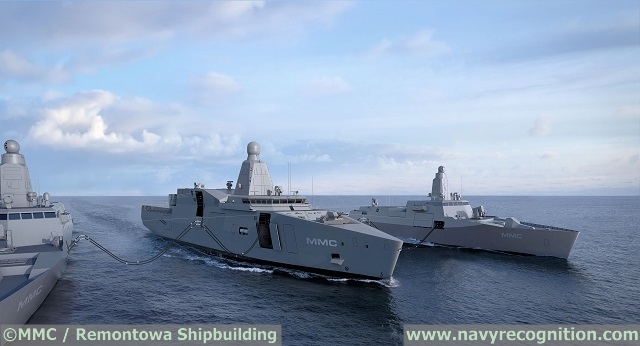 Artist impression: MMC/Remontowa's Stealth Logistic Support Vessel conducting UNREP with two Miecznik defense coastal vessels (also designed by MMC)

Final equipment fit depends on customer requirement, but based on the artist impression one may note that the vessel is fitted with:

- An I-MAST 400 integrated mast by Thales. This is the mast currently fitted aboard the Holland-class OPV. The mast gathers almost all the sensors fitted aboard the ship: Surface search radar, IFF system, Optronic system, Radar ESM and communication antennas.
- Two fire control radars.
- Two Rheinmetall Millennium 35mm CIWS fitted forward (as main gun) and aft (above the helicopter hangar).
- Four decoy launchers.
- Four 12.7mm machine gun mounts.
The vessel may also be fitted with an optional containerized towed sonar.

The cargo holds capacity consists in:
- 11x 20 feet containers in 2 holds
- 8x armored vehicles (Rosomak) or trucks in 2 holds (which may be loaded via a stern ramp)
- 6x containers with explosive goods in 3 holds

Tank cargo capacities:
- Navy fuel: 1500 t
- Helicopter fuel: 50M t
- Fresh water: 200 t

The helicopter deck and hangar can accomodate a single 11 tons class helicopter.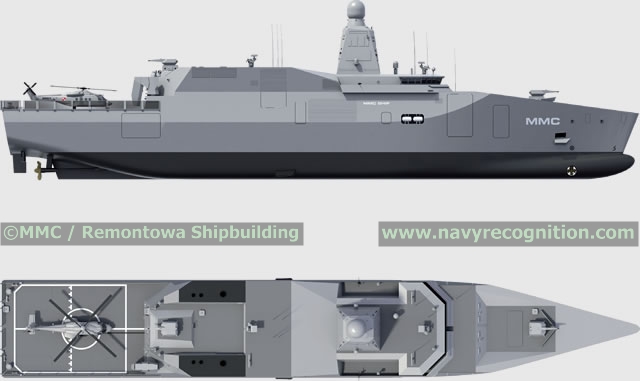 CGIs of the Stealth Logistic Support Vessel

The Stealth Logistic Support Vessel's top speed is 20 knots, its endurance is 30 days at sea and range is 8,000 nautical miles at 15 knots. The propulsion system is CODELOD (COmbined Diesel ELectric Or Diesel): 2x 5000 kW for the main diesel engine and 2x 2500 kW for the electric propulsion, with two controlled pitch propellers.

The main missions of the vessel include:
» Support of naval fleet by replenishment at sea with liquids and solids;
» Helicopter operations (HIFR, VERTREP);
» Transport of explosive goods;
» Transport of vehicles;
» Humanitarian operations (eg. based on 20ft container medical facilities);
» Other auxiliary missions including patrol with use of containerized mission modules (based on 20ft container).