a
Naval Forces News - RIMPAC 2016
Video: SINKEX of Decommissioned USS Thach (FFG 43) Frigate during RIMPAC 2016

Live fire from ships and aircraft participating in the Rim of the Pacific 2016 exercise sank the decommissioned USS Thach (FFG 43) at 7:25 p.m. July 14, 2016 in waters 15,000 feet deep, 55 nautical miles north of Kauai, Hawaii. Units from Australia, the Republic of Korea and the U.S. participated in the sinking exercise (SINKEX), which provided them the opportunity to gain proficiency in tactics, targeting and live firing against a surface target at sea.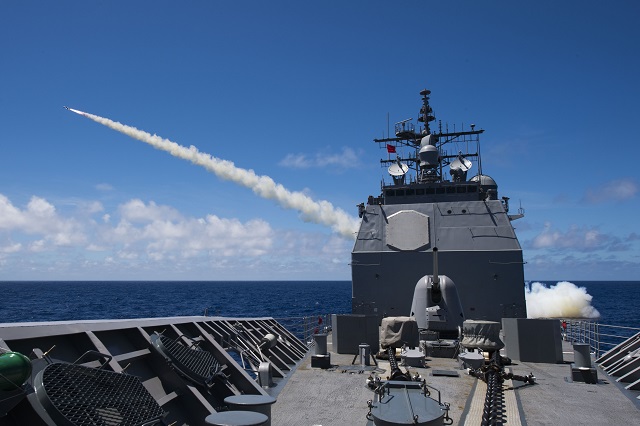 PACIFIC OCEAN (July 14, 2016) Sailors aboard the guided-missile cruiser USS Princeton (CG 59) fire an RGM-84 Harpoon anti-ship missile during an international sinking exercise, or SINKEX, for Rim of the Pacific 2016. Twenty-six nations, more than 40 ships and submarines, more than 200 aircraft, and 25,000 personnel are participating in RIMPAC from June 30 to Aug. 4, in and around the Hawaiian Islands and Southern California. The world's largest international maritime exercise, RIMPAC provides a unique training opportunity that helps participants foster and sustain the cooperative relationships that are critical to ensuring the safety of sea lanes and security on the world's oceans. RIMPAC 2016 is the 25th exercise in the series that began in 1971. (U.S. Navy photo by Mass Communication Specialist 1st Class Jason Noble/Released)
"This SINKEX was a tremendous event for all the units who participated. As you can imagine, the opportunity to fire live ordnances at a real target is incredibly rare and I know that these men and women learned so much today," said Royal Canadian Navy Rear Adm. Scott Bishop, deputy commander of the RIMPAC Combined Task Force. "This kind of training is vital to strengthening our interoperability and increasing our readiness for operations in the future."

Former Navy vessels used in SINKEXs are prepared in strict compliance with regulations prescribed and enforced by the Environmental Protection Agency under a general permit the Navy holds pursuant to the Marine Protection, Research and Sanctuaries Act.

Each SINKEX is required to sink the hulk in at least 1,000 fathoms (6,000 feet) of water and at least 50 nautical miles from land. Surveys are conducted to ensure humans and marine mammals are not in an area where they could be harmed during the event.

Prior to the vessel being transported for participation in a SINKEX, each vessel is put through a rigorous cleaning process, including the removal of all polychlorinated biphenyls (PCBs), transformers and large capacitors, all small capacitors to the greatest extent practical, trash, floatable materials, mercury or fluorocarbon-containing materials and readily detachable solid PCB items. Petroleum is also cleaned from tanks, piping and reservoirs.
Video: RIMPAC 2016 SINKEX of Decommissioned USS Thach (FFG 43)

A Navy civilian environmental, safety and health manager and a quality assurance supervisor inspect the environmental remediation conducted in preparation of a vessel's use in a SINKEX. Upon completion of the environmental remediation, the manager and supervisor provide signed certification of the work in accordance with EPA requirements.

The decommissioned USS Thach (FFG-43) was the 34th ship of the Oliver Hazard Perry-class guided missile frigates. The ship was named for Naval aviator Adm. John S. Thatch, the developer of the "Thach Weave"; dogfighting tactic in World War II and former Commander, U.S.

Naval Forces Europe from 1965-1967. Thach participated in a number of maritime security exercises and operations both independently and as part of carrier strike groups in U.S. 3rd, 4th, 5th and 7th Fleet areas of responsibility during nearly three decades of service.

Held every two years by Commander, U.S. Pacific Fleet and executed by Commander, U.S. 3rd Fleet, RIMPAC is a multinational maritime exercise that takes place in and around the Hawaiian Islands and off the coast of southern California. This year's RIMPAC exercise, the 25th in the series that began in 1971, is scheduled from June 30 to Aug. 4. Twenty-six nations, 45 surface ships, five submarines, more than 200 aircraft and 25,000 are participating in this year's exercise.