a
Defence Industry News - MBDA, Airbus
Airbus Military C295 MPA carries MBDA MARTE MK2/S Anti-ship Missile for first time
Airbus Military and MBDA have successfully completed the first flight of the C295 maritime patrol aircraft with an instrumented Marte MK2/S anti-ship inert missile installed under the wing. The flight was the first of a series of trials planned in a joint Airbus Military – MBDA collaboration to validate the aerodynamic integration of Marte on the C295. Subsequent flights will include handling qualities testsand aircraft flight performance tests.

This initiative successfully aligns with the Defence industry strategy shared by MBDA in Spain and Airbus Military.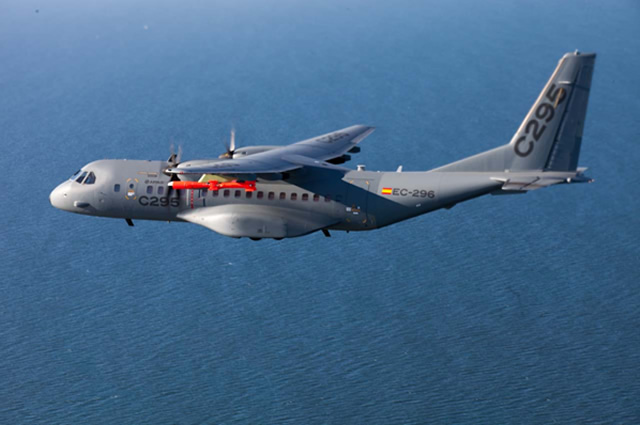 C295 Maritime Patrol Aircraft (MPA) with a Marte MK2/S missile under wing
(Picture: Airbus Military)
The MBDA Marte MK2/S missile is a fire-and-forget, all-weather, medium-range sea-skimming anti-ship weapon system, equipped with inertial mid-course guidance and radar homing terminal guidance, and capable of destroying small vessels and heavily damaging major vessels. The missile has a weight of 310 Kg and is 3.85 m long.

In the anti-submarine warfare (ASW) role, the C295 is already in-service carrying the MK42 torpedo.

The Marte Mk2/S is already integrated on the AW-101 and the NFH-90 naval helicopters.