a
Naval Defense Industry News - Netherlands
Scheldepoort to upgrade Royal Netherlands Navy De Zeven Provinciën class frigates
Scheldepoort Repair & Conversion Yard has been awarded a substantial Royal Netherlands Navy contract to modernise and upgrade the propeller shaft lines and generator sets of four Air Defence and Command Frigates.

Part of the Damen Shipyards Group, Scheldepoort is based in Vlissingen in the south of the Netherlands, and specialises in maintenance, modifications, repairs and refits. Peter Sterkenburg, Sales Manager at Scheldepoort, comments: "After an extensive negotiation period, we are very proud to have been selected for this technically challenging and complex project."

Technology has moved on considerably since the vessels were built, some 12 years ago, by our sister company Damen Schelde Naval Shipbuilding (DSNS), he says. "Modifying the Controllable Pitch Propeller system will make the vessels much more fuel efficient, quieter and more environmentally friendly – crucial in today's environment. At the same time the frigates will be more powerful and the systems smaller and lighter."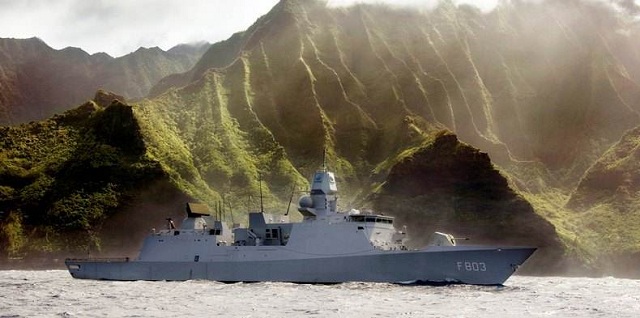 HNLMS Tromp (F803), second De Zeven Provinciën class frigate of the Royal Netherlands Navy
(Picture: Damen)

The new engines of the generator sets - four on each vessel - are being delivered, engineered and modified by Wärtsilä. And in cooperation with Scheldepoort the generator sets will be replaced. Scheldepoort has partnered Imtech Marine for the electrical and automation work on the generator sets.

The first of the vessels,'HR. MS. De ZevenProvinciën', is expected to arrive at the yard on August 13 and the second in early 2013, with the last two arriving in 2014. Each vessel is expected to take 70 to 80 days to complete and Scheldepoort has a dedicated team working on the naval contract.

Tight schedule
Scheldepoort Project Manager John Zijlstra said that one reason the yard got the contract was because it could carry out the work within such a tight schedule. "It is crucial to have all of the planning arranged well but we also have to have flexibility. This is a very complex job, logistically speaking, requiring our expertise in the conversion and repair sector combined with the vast knowledge of DSNS, a specialist in newbuild naval vessels. We work very closely together with DSNS and have very short lines of communication."

In the past Scheldepoort has also carried out maintenance work for the Royal Netherlands Navy's Rotterdam-class Landing Platform Docks.