a
World Naval News - France
Charles de Gaulle aircraft carrier stops Libyan operations
The french aircraft carrier Charles de Gaulle was deployed since March 22, 2011 as part of the military intervention put in place in accordance with UN resolution 1973. The Charles de Gaulle left the operation and should rally its base of Toulon, on August 12.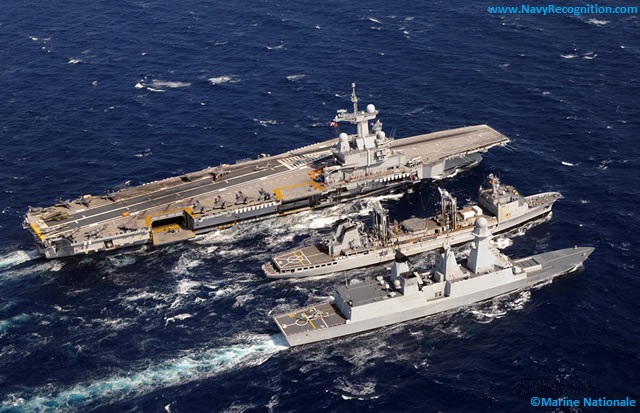 The Charles de Gaulle carrier during ressuply at sea operations
The Charles de Gaulle is sailing back home with the air group on board and will be immobilized for several months to allow for technical upgrading and reconditioning of the crew before a rise in operational power.
The carrier had previously participated from October 2010 to February 2011 inthe operation Agapanthus. It accounts for well over eight months of non-stop operations except for the 1 month of technical stop in Toulon in February 2011.
French involvment in Lybian operations will now be as follows:
- In Crete island, France deployed a detachment of Air Force Mirage 2000D Mirage 2000N and a detachment of two Navy maritime patrol aircrafts Atlantic.
- At Sigonella, France is deploying five Air Force Rafale fighters.
- In addition, Awacs and supply aircrafts (C135 and E3F) continue to operate from France, respectively, from the bases of Avord and Istres.
- The Navy deploys a Mistral class amphibious vessel, two frigates, a tanker and a nuclear attack submarine . A third ship is engaged in the naval force of NATO.
- The Mistral class amphibious vessel has some twenty combat and transport helicopters onboard.