a
Naval Defense Industry News - USA
Raytheon awarded $45 million MK 54 lightweight torpedo contract
Raytheon Company has been awarded a $45.3 million U.S. Navy contract to provide MK 54 lightweight torpedo hardware, test equipment, spares and related engineering and repair services for U.S. fleet inventory and in support of foreign military sales to the Royal Australian Navy and the Indian Navy. The award represents an exercised option of a current Navy contract for MK 54 torpedo kits.

"As enemy submarines remain a threat to security, stability and access to the world's oceans, naval forces worldwide require a reliable and effective undersea warfare weapon," said Kevin Peppe, vice president of Seapower Capability Systems for Raytheon's Integrated Defense Systems business. "Together with the U.S. Navy, we continue to advance the development of the world's most effective lightweight torpedo, delivering its proven capabilities to meet the anti-submarine warfare needs of U.S. and allied fleets."

Raytheon is the U.S. Navy's sole production supplier for MK 54 lightweight torpedo hardware, in production since 1999. With an established infrastructure and experienced workforce co-located with the Naval Undersea Warfare Center, Keyport, Wash., the company works directly with the Navy to meet the lightweight torpedo requirements of U.S. and allied fleets.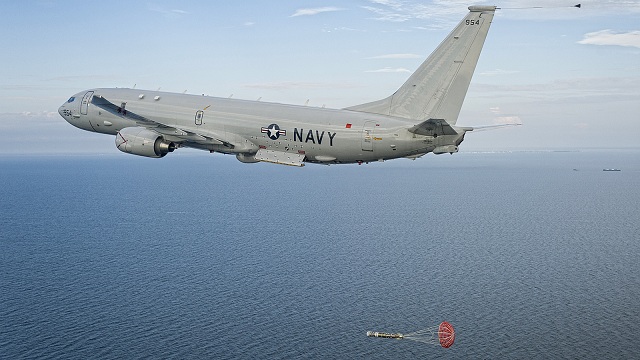 P-8A successfully launches first MK-54 during weapon test
(picture: US Navy)
The MK 54
The MK 54 is the Navy's next-generation anti-submarine warfare (ASW) weapon deployed from surface ships, helicopters and fixed-wing aircraft to detect and attack underwater targets. Sophisticated processing algorithms allow the MK 54 to analyze the information, edit out false targets or countermeasures, and pursue identified threats. The MK 54 is designed for both deep water and littoral environments, making it the only lightweight torpedo capable of striking any underwater target in the world's oceans, regardless of water depth.

Integrated onboard the MH-60R maritime helicopter, the MK 54 is the primary weapon for the helicopter's ASW mission. Most recently, the U.S. Navy successfully launched the first MK 54 lightweight torpedo from the P-8A Poseidon aircraft. The torpedo adds a critical capability to these long-range ASW, anti-surface warfare, intelligence, surveillance and reconnaissance aircraft, which will be capable of broad-area, maritime and littoral operations.