a
Naval Forces News - USA
General Dynamics NASSCO Delivers USNS Cesar Chavez T-AKE 14 dry cargo ammunition ship
General Dynamics NASSCO on October 24 delivered USNS Cesar Chavez (T-AKE 14) to the U.S. Navy, marking the completion of a highly successful U.S. shipbuilding program that has spanned more than a decade.

USNS Cesar Chavez is the fourteenth and final ship of the T-AKE class of dry cargo ammunition ships built by General Dynamics NASSCO for the U.S. Navy. NASSCO began constructing the 689-foot-long ship in October 2010, incorporating international marine technologies and commercial ship-design features, to minimize operating costs over its projected 40-year service life. With a 79.2-percent ship-over-ship learning curve, the T-AKE Program is among the most efficient shipbuilding programs in the United States.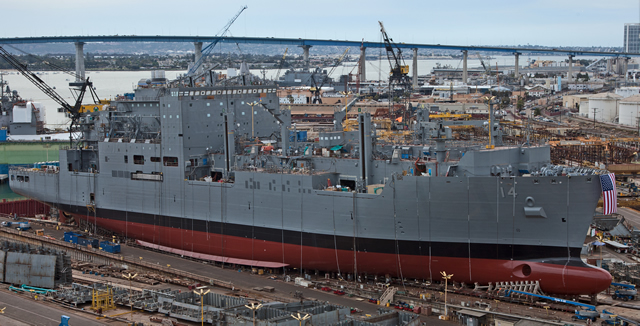 Broadside view of T-AKE 14, the USNS Cesar Chavez, ready for launch.
(picture: General Dynamics NASSCO)
"This is an exciting day for the American shipbuilding industry and the U.S. Navy, as T-AKE 14 joins a distinguished tradition of NASSCO-built ships supporting the U.S. Navy and Marine Corps," said Fred Harris, president of General Dynamics NASSCO. "As demonstrated on our successful sea trials three weeks ago, the Cesar Chavez is ready for immediate service to our nation."

T-AKE 14 is an extremely capable auxiliary ship that is equipped to fulfill a variety of U.S. Navy global combat logistics requirements. With a cargo capacity of more than 10,000 tons, the primary mission of USNS Cesar Chavez will be to deliver food, ammunition, fuel and other provisions from shore stations to combat ships at sea.