a
Naval Forces News - South Korea
Republic of Korea Navy commissions First of Class "Incheon" FFX I Frigate
Republic of Korea Navy commissioned on 17 January 2013 the first of its next next generation FFX I class Frigate. The ship was by Hyundai Heavy Industry and is expected to replace the aging fleet of Pohang class corvettes and Ulsan class frigates, and take over multi-role operations such as coast patrol or anti-submarine warfare.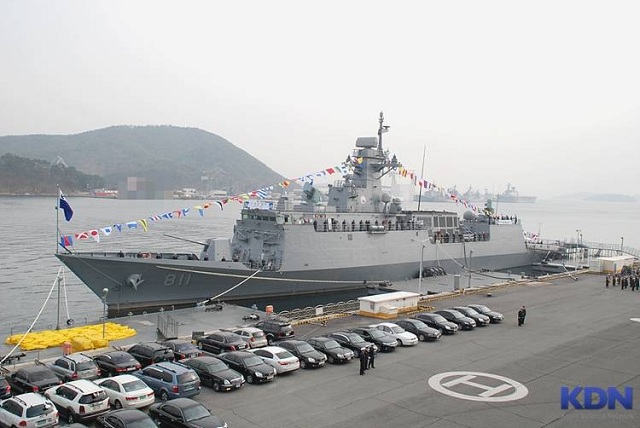 Republic of Korea Navy Frigate Incheon FFX I during its commissioning ceremony
(photo: KDN)

The class will be built in several batches. Six vessels will be built as Batch I (similar to head of class Incheon), eight Frigates will be built as Batch II by Daewoo Shipbuilding & Marine Engineering, and Batch III is also planned for the future.

Batch I vessels are reported to displace 2,500 tons with a length of 114 meters and a beam of 14 meters. The main gun is 127mm similar type to those used by the US Navy. For defense, the Incheon is fitted with a RIM-116 RAM launcher as well as a Phalanx CIWS. The class is also fitted with eight SSM-700K Hae Sung I anti-ship missiles, with an option for eight more land attack variant Haesung missiles in the future.

It is expected that Batch II vessels will receive VLS cells for long range SAMs and the locally built Hyunmoo-3 land attack cruise missile. No design specifics have been released yet however, regarding Batch II vessels.