a
Naval Industry News - Russia
Sevmash Starts Tests of Third Borey Class ballistic missile nuclear submarine SSBN
Russian submarine-builder Sevmash has begun moored tests of the third Borey-class (Project 955) ballistic missile submarine Vladimir Monomakh, the shipyard said on Friday.

"The fourth-generation missile submarine Vladimir Monomakh has been submerged in the water and started moored tests," Sevmash said.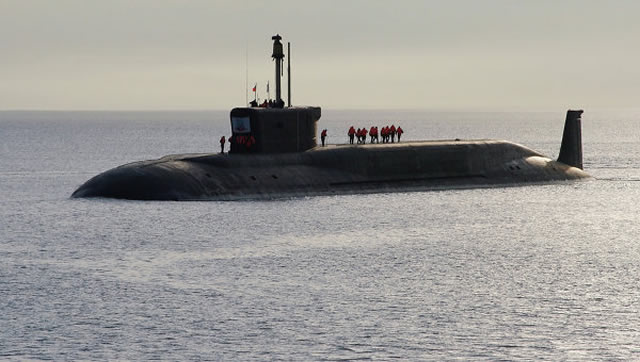 Russia's first Borey class ballistic missile nuclear submarine, the Yury Dolgoruky
(Picutre: Sevmash Shipyard)
Shipyard sea trials will start in the summer of this year, Sevmash said.

Vladimir Monomakh will be the third and last Project 955 boat, armed with 16 Bulava ballistic missiles. The fourth and subsequent boats will be Project 955A vessels with 20 missiles. The fourth boat, Knyaz Vladimir, is under construction.

Vladimir Monomakh has also been built with the incorporation of the latest acoustic signature reduction techniques, Sevmash said.

The Russian Navy accepted into service the first boat of the class, Yury Dolgoruky, on January 10. The second in the class, Alexander Nevsky, is currently undertaking sea trials and is due to enter service this year.