a
Naval Forces News - Russia
Russian Aircraft carrier Admiral Kuznetsov named among best units of Northern Fleet
The crew of the Admiral Kuznetsov (NATO reporting name: Kuznetsov-class) aircraft carrier under the command of Captain 1st Rank Sergei Artamonov has been recognized as one of the best Northern Fleet units in Academic Year 2016, Fleet Commander Vice Admiral Nikolai Yevmenov, said at a briefing during an enlarged session of the fleet's Military Council.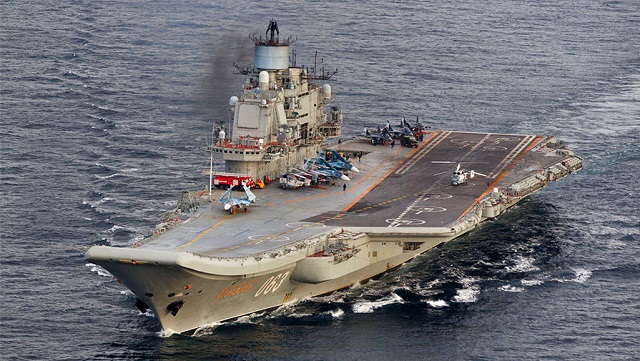 The Russian aircraft carrier Admiral Kuznetsov. Picture: Norwegian Armed Forces
"The crews of the Admiral Kuznetsov heavy through-deck cruiser and Magnitogorsk [Kilo-class] diesel-electric submarine as well as a separate air regiment of the Northern Fleet's air force are among the best ships and units," Yevmenov said.

The Murmansk Region governor awarded the best commanders cups of appreciation at the session of the Northern Fleet's Military Council.

At present, the aircraft carrier is on mission in the Mediterranean, leading the Northern Fleet's carrier strike group comprising the Pyotr Veliky (Kirov-class) nuclear-powered missile cruiser, Severomorsk (Udaloy-class) antisubmarine warfare destroyer and several support vessels.

"The forces of the Northern Fleet have been operating in the Mediterranean Sea successfully," the fleet commander said.
© Copyright 2016 TASS. All rights reserved. This material may not be published, broadcast, rewritten or redistributed.