a
Naval Forces News - Russia
Russian Navy prosecutors launch probe into damage inflicted on brand new Admiral Essen frigate
The Russian Baltic Fleet's military prosecutor's office is investigating the damage to the Project 11356 (NATO reporting name: Admiral Grigorovich-class) Admiral Essen frigate in Kaliningrad, the prosecutor's office has told TASS.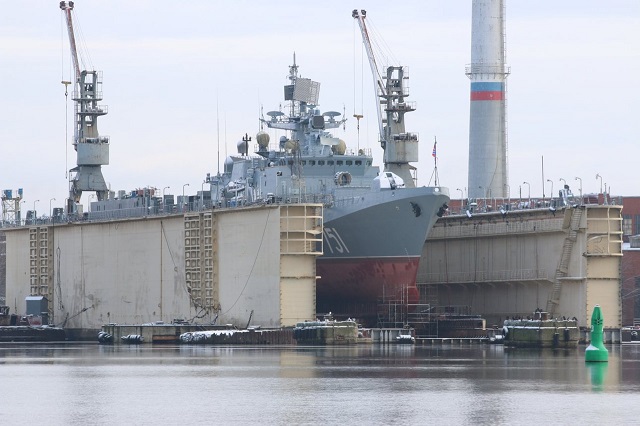 The Admiral Essen Project 11356 frigate of the Russian Navy, seen being repaired in a floating dock PD-8 at JSC "Baltic Shipyard" Yantar "in Kaliningrad. Picture: vk.com/milinfolive

"The investigation is in progress," an officer with the fleet prosecutor's office said without going into detail.

Previously, there were media reports that the Admiral Essen, built for the Russian Navy's Black Sea Fleet, had been docked at the Yantar Shipyard in Kaliningrad. A source has confirmed the reports to TASS. The latter has not received an official statement from the shipyard. According to the media, the warship's propellers and shafting were damaged.
Yantar laid the frigate down on July 8, 2011 and launched her on November 7, 2014. The ship passed the official tests in the Baltic and Barents seas, having completing them on May 30 this year. The frigate was delivered to the Navy on June 7.

The Admiral Essen is the first production-standard Project 11356 frigate. The lead ship of the series, the Admiral Grigorovich, was delivered on March 11, 2016.



© Copyright 2016 TASS. All rights reserved. This material may not be published, broadcast, rewritten or redistributed.