a
Naval Industry News - Russia
Video: Russian Navy Commissions Project 21180 Icebreaker Ilya Muromets
The Ilya Muromets icebreaker of project 21180 joined the Russian Navy. A gala ceremony to hoist the auxiliary flag on it was held at the Admiralty Shipyard in St. Petersburg.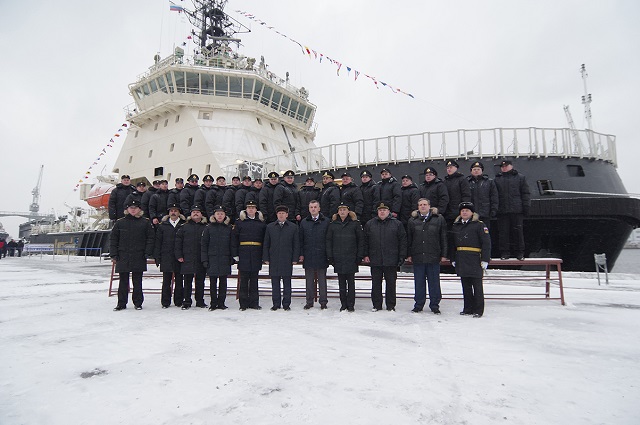 Russian Navy commissioned the Icebreaker Ilya Muromets.
Admiralty Shipyard picture.
It is the first icebreaker handed over to the auxiliary fleet in over 40 years. Murmansk will be its home port of call. Navy Deputy Commander-in-Chief Vice Admiral Viktor Bursuk, President of the United Shipbuilding Corporation Alexey Rakhmanov and Admiralty Shipyard CEO Alexander Buzakov attended the ceremony.

"We are receiving a vessel which by its functions exceeds the capabilities of an ordinary icebreaker. It will serve for the benefit of the Russian Navy," Bursuk said.
Video by Russian TV channel "World 24"
The Ilya Muromets was laid down on April 23, 2015. Its displacement is six thousand tons. Autonomous navigation is 60 days and the range is nine thousand miles. The crew comprises 35 men. The Ilya Muromets can lead warships and supply vessels through the Arctic ice. It can operate as a sea tug, icebreaker and patrol vessel. The Ilya Muromets can break up to 80-centimeter thick ice.



© Copyright 2017 TASS. All rights reserved. This material may not be published, broadcast, rewritten or redistributed.