a
Naval Forces News - India
Indian Navy hopes nuclear-powered attack submarine Chakra to be back in fleet soon
The Russian-made Project 971 nuclear-powered attack submarine Chakra (formerly known as the K-152 Nerpa submarine) leased to India's Navy, which has suffered damage during its operation, will be made operational soon, The Pioneer newspaper reported with reference to Indian Navy Chief Admiral Sunil Lanba.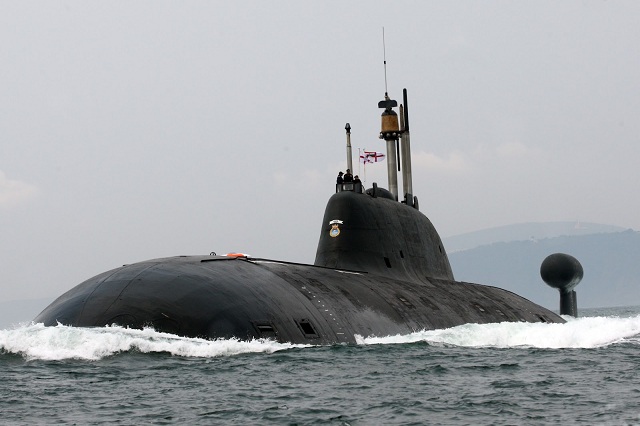 INS Chakra nuclear-powered attack submarine
(picture: Indian Navy)
"The mishap took place in early October near Visakhapatnam" and a sonar dome and two panels in the bow were damaged, the chief said. The submarine's nuclear reactor did not suffer any damage, he added.

The accident took place while the submarine was negotiating a narrow channel, Lanba said.
"It was a joint team of Indian and Russian experts who examined the submarine," Lanba said. According to him, the submarine will be operational "sooner than later" as it has suffered partial damage.

The chief rejected media reports saying that US military experts had allegedly come aboard the submarine. According to him, no American serviceman or expert saw the submarine at close distance.

He also said that India was currently in talks to lease a second nuclear-powered submarine from Russia.

Russia leased the Project 971 Akula-class nuclear-powered attack submarine (NATO reporting name: Akula-class) to India in 2012 for ten years under a contract signed on December 30, 2011. According to the Indian side, the contract's cost was $600 million.

© Copyright 2017 TASS. All rights reserved. This material may not be published, broadcast, rewritten or redistributed.