a
Naval Aviation News - Russia
Kh-31 air-to-surface missile added to Russian Navy MiG-29K/KUB weapons package
Kh-31 missiles have been added to the set of armaments of Russian seaborne MiG-29K/KUB fighter jets. Various missile modifications can hit adversary warships and radars. Supersonic speed makes Kh-31 nearly invulnerable for air defense. One salvo by a wing of fighter jets can destroy or make inoperative a major warship, the Izvestia daily writes.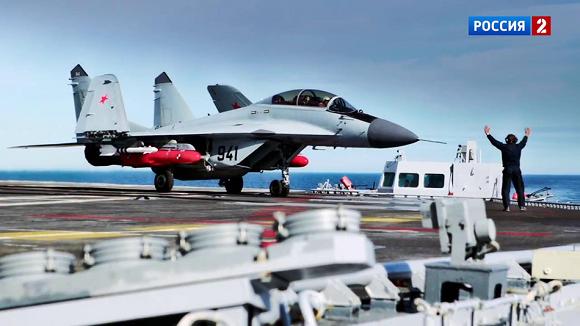 MiG-29KUB two-seater
jet aboard Admiral Kuznetsov aircraft carrier testing two missiles

The Russian Navy headquarters told the newspaper that Kh-31 adaptation for MiG-29K (one-seater) and MiG-29KUB (two-seater) had been completed. In autumn the missiles were added to the set of arms of the seaborne fighter jet. Pilots have successfully fulfilled the program of combat training launches.

High-precision weapons engagement differs for aircraft which take off the ground and from the deck. Takeoff overload is higher from a short runaway of the heavy Admiral Kuznetsov aircraft carrier of project 11435. Landing is possible with unspent munitions which happens in training flights. Therefore, it was necessary to upgrade the 700-kg missile and the aircraft itself. In particular, the suspension was upgraded and the navigation and targeting complex of MiG-29K/KUB improved.

The changing mission profile and supersonic speed of Kh-31 make it a dangerous weapon. In a missile- avoiding maneuver it sustains a 10g overload. The Kh-31 speed is three times faster than the speed of sound.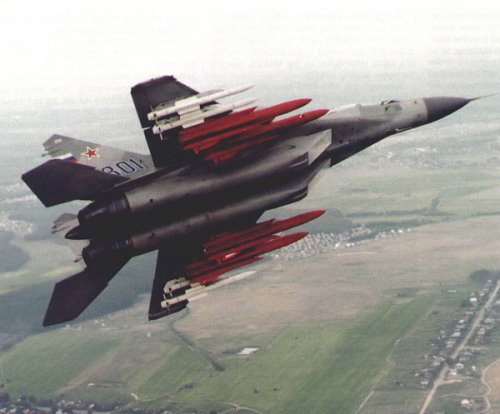 A Mig 29 fitted with 4x Kh-31 missiles
The antiradar Kh-31P was created to fight US antiaircraft missile complexes MIM-104 Patriot, MIM-23 Hawk and MIM-14 Nike-Hercules. It can also destroy various warships up to a destroyer if one aircraft fires two missiles. A salvo of eight missiles by a wing of four MiG-29 can destroy heavier warships, including adversary aircraft carriers.

Expert Alexey Leonkov said Kh-31 allows Russian seaborne fighter jets engage in a broad range of missions and destroy air defense, warships and ground facilities. "The designer of Kh-31 family has increased of late the strike distance and precision. The Kh-31AD range exceeds 160 kilometers which means seaborne MiG-29K got a long hand to fight warships and ground targets of the adversary. The new set of arms increases antiship potential of MiG-29K several times," he said.

The Tactical Missiles Corporation created an option of antiradar Kh-31P long-range missile. It can hit targets at a distance of up to 250 kilometers and carries an inertial targeting system and broadband passive radar homer. The weapon can be fired in any weather.

Multirole seaborne MiG-29K/KUB (Fulcrum-D by NATO classification) are designed to defend warship groupings from air strikes and to destroy ground and surface targets with a wide range of weapons, including high-precision ones. The aircraft has bigger fuel tanks and is equipped with an air refueling system. MiG-29K/KUB can refuel other craft in the air with the PAZ-1MK refueling device. They are equipped with two RD-33MK engines with a 9000-kgf takeoff thrust. MiG-29K/KUB also have the Zhuk-M radar with slotted antenna array. The maximum speed is 2200 km/h and the ferry distance without fuel pods is 2000 km.

© Copyright 2017 TASS. All rights reserved. This material may not be published, broadcast, rewritten or redistributed.