a
Naval Forces News - Russia
PPP may finance construction of Russian Project 10510 icebreaker
Russian Deputy Prime Minister Dmitry Rogozin suggested at a meeting of the Arctic development commission that public-private partnership (PPP) may finance the construction of project 10510 icebreaker.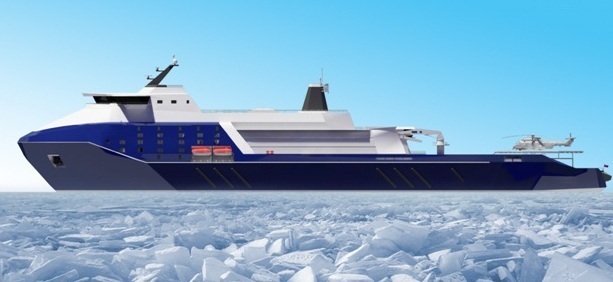 Project 10510 Leader class icebreaker

"It has been included into the analytical part of the state arms program. Possible financing algorithms also by public-private partnership are being discussed," he said.

Appropriations for the project will be shortly included into the Arctic development program, Rogozin added.

"I am not going to anticipate developments, but I believe the state program is likely to get an item for financing such important event as the construction of the Leader icebreaker," he said.

At least three icebreakers are necessary for uninterrupted and sustainable operations of the eastern part of the Northern Sea Route. Their absence "can jeopardize all our plans," Rogozin said adding the main task is to ensure uninterrupted navigation not only in the western part. He urged to consider where to find the money for the construction of icebreakers.

The new icebreaker with a capacity of 120MW is only a project suggested for implementation. Project 10510 icebreaker will be the only vessel in the world to operate all year round along the Northern Sea Route in over 4-meter thick ice. It was reported that the icebreaker may cost 70 bln rubles. At present the most powerful icebreaker is the LK-60 (60MW) of project 22220. The lead Arktika nuclear icebreaker of project 22220 was laid down by the Baltic shipyard in November 2013. Its cost is estimated at 47 bln rubles.



© Copyright 2017 TASS. All rights reserved. This material may not be published, broadcast, rewritten or redistributed.



Comment:
The vessel can reportedly break up ice with maximum thickness of 4.3 meters and lead cargo vessels at a speed of 11 knots in two-meter thick ice thus ensuring efficient navigation along the Northern Sea Route. The Leader can develop the route into a permanently operating waterway as it would provide year-round support to vessels on schedule regardless of weather conditions and ice situation. The icebreaker would be crucial for transporting hydrocarbons from Yamal deposits to Asian and Pacific Rim countries.