a
Naval Industry News - USA
HII Awarded Contract For Columbia-Class Integrated Product & Process Development
Huntington Ingalls Industries (HII) announced today that its Newport News Shipbuilding division was awarded a contract from General Dynamics Electric Boat worth up to $468 million to begin work on integrated product and process development for the U.S. Navy's new Columbia-class submarines.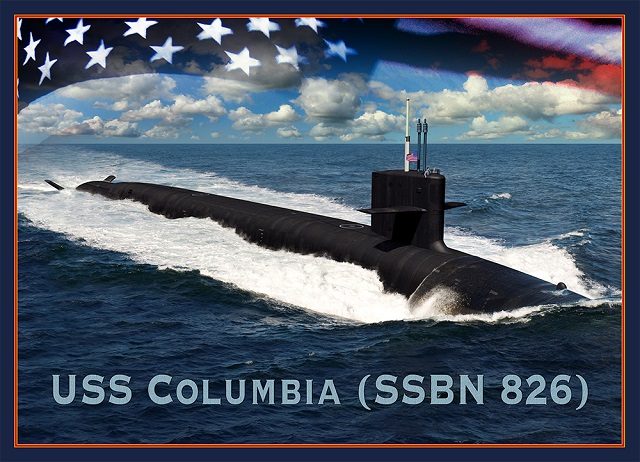 WASHINGTON (Dec. 14, 2016) A graphic representation of the future USS Columbia (SSBN 826). (U.S. Navy photo illustration by Petty Officer 1st Class Armando Gonzales/Released)
The U.S. Navy awarded a $5 billion detailed design contract to General Dynamics Electric Boat on Sept. 21. Newport News Shipbuilding is the subcontractor for the new class of ballistic-missile submarines that are being designed to replace the Ohio-class submarines.

The contract work, which began on Oct. 1, allows for the completion of the design and also includes engineering analysis, component development, detail planning and technical services. Construction of the 12-submarine Columbia class is expected to begin in fiscal year 2021, with the first delivery to the Navy in 2028.

"This contract leverages the productive partnership we've built with Electric Boat in the construction of Virginia-class submarines," said Dave Bolcar, vice president of submarine programs at Newport News Shipbuilding. "We are excited and ready to do our part to support EB and deliver these submarines to the Navy in an efficient and cost-effective manner."
Our video on Ohio Replacement / Columbia-class SSBN during Sea Air Space 2017
Ballistic missile submarines are critical, stabilizing and efficient elements of the U.S. nuclear deterrence and assurance policy, carrying the majority of deployed U.S. nuclear warheads. Columbia-class SSBNs incorporate advanced technology and will provide the most survivable leg of the Nation's strategic triad.

According to the US Navy, the mission of the Ohio Replacement will be Sea Based Strategic Deterrence:
Replacing Ohio SSBN class, rehosting TRIDENT II D5 (LE) missile system, providing the most survivable leg of the Nation's strategic triad.

Key facts of Ohio Replacement as provided by NAVSEA:
» The Ohio Replacement is the US Chief of Naval Operations number one acquisition priority.
» SSBNs are critical, stabilizing and efficient elements of US Nuclear deterrence and reassurance.
» The current Ohio class SSBN force is reaching the end of its operational life and must be replaced to meet the continuing mission requirements of USSTRATCOM.
» The Ohio Replacement will perform the same mission of today's Ohio class with two fewer ships at $40B in acquisition and life-cycle savings.
» The Ohio Replacement is being designed to have a longer service life, better availability and better survivability than their predecessors.