a
Naval Industry News - Russia, Vietnam
Two Gepard-3.9 frigates built for Vietnam to be delivered in mid-2017
The two Project 11661 Gepard-3.9 (NATO reporting name: Gepard-class) frigates built for Vietnam will be delivered in the middle of 2017, Zelenodolsk Shipyard Director General Renat Mistakhov has told TASS at the IDEX 2017 international arms show in Abu Dhabi.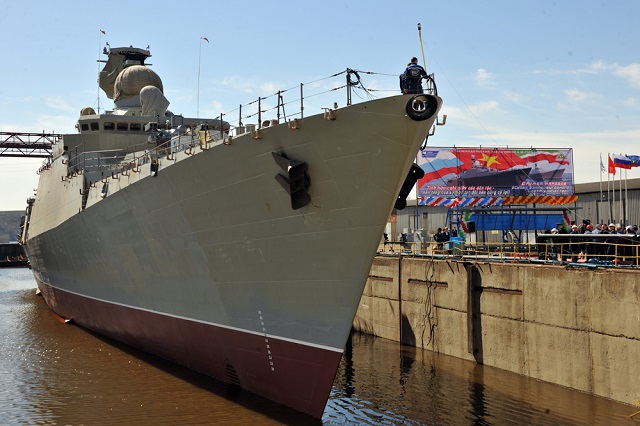 The third Project 11661 Gepard-3.9-class frigate designed for the Vietnamese Navy was launched in May 2016. Picture: Zelenodolsk Shipyard

"The two Gepard-3.9 frigates are in trials in the Black Sea, one undergoing her official tests and the other the manufacturer's ones. Their shipment to Vietnam is scheduled for the middle of the year," Mistakhov said.

According to him, the training of their crews will commence in the late first quarter this year. "In the late first quarter, the crews are coming for training designed for completion in the middle of the year. The crews will go to the ships for practical training in the second quarter," the director general added.

He noted that the Gepard-3.9 frigate was a promising product as far as the Asia-Pacific market is concerned. "The first two ships in this class have done well to date," Mistakhov said.

The Vietnamese Navy took delivery of its first two Gepard-3.9s in 2011 and ordered two more in 2012. The second pair was laid down in the fall of 2013. Vietnam is reportedly intent on ordering two more frigates of the class.

The Zelenodolsk Shipyard has built Project 11661 frigates since 1990. The ships in the class displace 1,500 tons and carry artillery, antiaircraft and antisubmarine weaponry and antiship missiles as well. The frigates are designed to seek for and destroy submarines, surface ships and aircraft, conduct patrolling and convoy escorting and protect maritime exclusive economic zones.

© Copyright 2017 TASS. All rights reserved. This material may not be published, broadcast, rewritten or redistributed.