---
The keel of the future USS Daniel Inouye (DDG 118) was ceremoniously laid on May 14 at the Bath Iron Works (BIW) shipyard. DDG 118 is the third (of nine) Arleigh Burke-class, "Flight IIA: Technology Insertion" variant. "Technology Insertion" ships are fitted with elements from the future DDG 51 Flight III.
---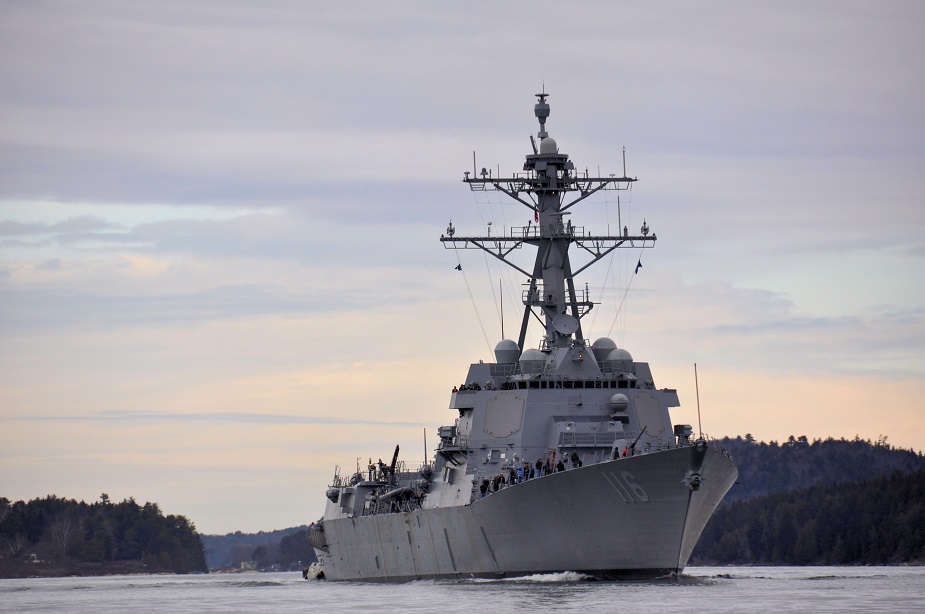 File picture: BATH, Maine (March 28, 2018) USS Thomas Hudner (DDG 116), the first Flight IIA: Technology Insertion Arleigh Burke-class destroyer starting sea trials. Daniel Inouye will be the third one in the series. (U.S. Navy photo/Released)

---
Irene Hirano Inouye, the ship's sponsor and wife of the late Sen. Daniel Inouye, was in attendance to authenticate the keel. During the ceremony, the authenticators etched their initials into the keel plate to symbolically recognize the joining of modular components and the ceremonial beginning of the ship.
"We are honored to have Mrs. Hirano Inouye authenticate the keel of the future USS Daniel Inouye," said Capt. Casey Moton, DDG 51 class program manager, Program Executive Office (PEO) Ships. "We wish the men and women who sail this exceptionally capable ship the same courageous spirit the late Sen. Inouye embodied."
The ship's namesake, Daniel Inouye, served as a United States Senator from Hawaii from 1963 until his death in 2012. Sen. Inouye received the Medal of Honor for his heroism while serving with the 442nd Infantry Regiment in Italy during World War II. During an assault on April 21, 1945, he lost his right arm but continued to fight until the Regiment's position was secured.
DDG 118 will be built in the Flight IIA configuration with the Aegis Baseline 9 Combat System which includes Integrated Air and Missile Defense capability. This system delivers quick reaction time, high firepower, and increased electronic countermeasures capability for Anti-Air Warfare.
These multi-mission surface combatants serve as integral assets in global maritime security, engaging in air, undersea, surface, strike and ballistic missile defense, as well as providing increased capabilities in anti-submarine warfare, command and control, and anti-surface warfare.
BIW is also currently in production on the future destroyers Carl M. Levin (DDG 120), John Basilone (DDG 122), Harvey C. Barnum (DDG 124) - with start of construction on DDG 124 set to ceremoniously begin later this week - as well as the future Zumwalt class destroyer, Lyndon B. Johnson (DDG 1002).
---