a
Naval Industry News - France / Russia
Mistral Warships for Russia to Get Russian Weaponry
The Mistral class amphibious assault ships built in France for the Russian Navy will be equipped with Russian-made weaponry, Navy Commander Adm. Vladimir Vysotsky said on Thursday.

"The main armaments installed on the ships will be Russian-made," Vysotsky said.

The admiral said that the Mistrals for the Russian Navy will be better armed than their French counterparts for staving off airborne and submarine threats.

The Mistral class ships in service with the French Navy are armed with two Simbad launchers for Mistral missiles and four 12.7 mm M2-HB Browning machine guns. They are considered under-equipped for self-defense.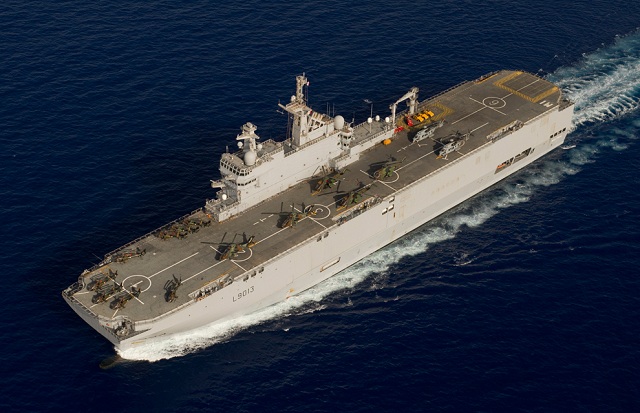 DCNS Mistral class used by the French Navy and soon by the Russian Navy
(picture: French Navy)

Vysotsky also mentioned that the Russian Mistrals could be armed with missiles equipped with "special Russian-designed warheads," although he did not specify the nature of these warheads. He stressed that Mistral warships will operate as part of naval task forces and significantly enhance their combat potential.

Russia and France signed a $1.2-billion contract on two French-built Mistral class ships, including the transfer of sensitive technology, in June 2011. Two more ships are expected to be 80% built in Russia, 20% in France. The first Mistral class warship is expected to be put in service with the Russian Navy in three years.

A Mistral-class ship is capable of carrying 16 helicopters, four landing vessels, 70 armored vehicles, and 450 troops.

The Russian military has said it plans to use Mistral ships in its Northern and Pacific fleets.