a
World Naval Forces News - Philippine
Newest Philippine Navy ship arrives in Palawan, beefs up defense in West Philippine Sea
The Barko ng Republika ng Pilipinas (BRP) Gregorio del Pilar (PF-15), the newest and most modern frigate of the Philippine Navy, arrived this weekend in Palawan to provide a much needed boost in the maritime defense capabilities in the West Philippine Sea.

In a local radio interview, Captain Alfred Cruz, Commanding Officer of PF-15, said the ship will conduct maritime security and sovereignty patrols to beef up protection of the country's territorial waters, as well as conduct search and rescue missions in the western front.

PF-15, commissioned as a warship of the Philippine Navy, will also augment naval security at the Malampaya Natural Gas project and other petroleum service contract areas under the Department of Energy (DOE) in the West Philippine Sea.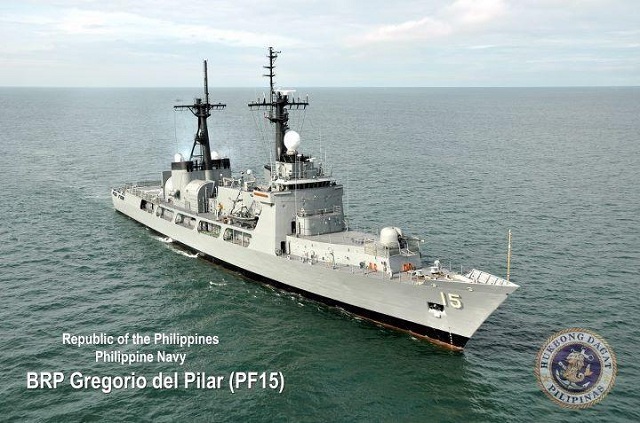 Barko ng Republika ng Pilipinas (BRP) Gregorio del Pilar (PF-15)
(Picture: Philippine Navy)

Cruz said that the ship is now the Navy's largest and fastest which can run with a speed of 40 knots per agility test. He said that it is equipped with helicopters, the first of which was donated by the Department of Tourism (DOT).

With a compliment of more than a hundred officers and enlisted personnel, the high-endurance Hamilton-class cutter can sustain a month-long mission without re-provisioning.

The home of PF-15 is the Ulugan Bay Naval Station in Barangay Macarascas, located about 45 kms northwest of this city.

PF-15 was acquired through the United Excess Defense Act using the Malampaya Natural Gas proceeds under the DOE. It was used by the United States Coast Guard for law enforcement and search and rescue missions.
Source: (DOS/VSM/PIA-Palawan)