a
World Naval Forces News - India
Indian Navy future Indigenous Aircraft Carrier (IAC) INS Vikrant out of Dry Dock
The first Indigenous Aircraft Carrier (IAC) of the Navy was floated out at the Cochin Shipyard Limited (CSL), at a low-key event attended by senior shipping and naval officers in late December. Among those present were Union Shipping Secretary K. Mohandas; Rear Admiral K.N. Vaidyanathan, Director General, Naval Design; and Commodore K. Subramaniam, Chairman and Managing Director of CSL.

The floating ceremony was followed by a meeting to review the progress in the work being done on the aircraft carrier, a 40,000-tonne fleet air defence platform of the Navy, which will be named after the legendary INS Vikrant. The Union Shipping Secretary told The Hindu that the work on the carrier was progressing, albeit not as per schedule, as so many variables were being factored into the extremely complex construction process.

The official added that the commissioning of the carrier, the keel of which was laid in February 2009, was likely to overshoot its original timeline.

According to a senior naval functionary, the carrier was 'technically floated out' as the shipyard needed the dry-dock for 'some other commercial work.' "The carrier has taken on about 14,000 tonnes. She would now undergo interior outfitting, including the laying of pipes before being dry-docked again in the latter half of next year for integration of the propulsion gear-box, generators and the like," he told The Hindu.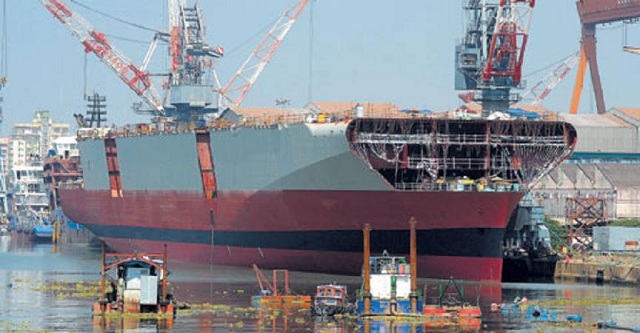 INS Vikrant out of dry dock
(Picture: Internet)

As earlier reported by The Hindu, a delay in the delivery of gear boxes and associated systems had considerably slowed down the construction of the prestigious carrier. Naval officers, however, put on a brave face saying that the phase in which teething trouble was encountered was over. "The gear box is ready and undergoing trials, at last. The underwater package is all lined up but the rest of the equipment has to be identified and tested," said a naval source.

After facing initial hiccups due to paucity of supply of steel, the carrier project got the much-required thrust with the Defence Metallurgical Research Laboratory (DMRL) and the Steel Authority of India (SAIL) fashioning carrier-grade steel indigenously.

After the steel supply stabilised, problems pertaining to quality gearbox put the brakes on the project. Elecon Engineering Company Limited, a Gujarat-based firm which had earlier manufactured CODOG marine gear boxes for the Navy's Shivalik-class stealth frigates, found itself in the red attempting to make the carrier's huge main gearboxes. "They have been able to overcome the difficulties with support from a German firm," said a Navy officer.
Source: The Hindu