a
Naval Industry News - Russia, India
"Vikramaditya" Aircraft Carrier Started Air Operation Trials
It is worth reminding that "Vikramaditya" left shores of Severodvinsk on 03 Jul 2013. As scheduled, the sea trials of the ship are progressing well in the White Sea. "Just a couple of hours after undocking, the engine and boilers were started and the ship moved to the trials area of the White Sea," said Mr Sergey Novoselov, Head of Foreign Military Cooperation Department.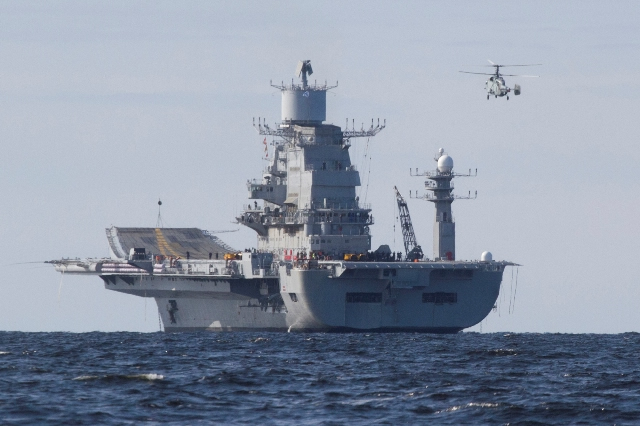 INS Vikramaditya, ex-Admiral Gorshkov, during the current sea trials
Picutre: Sevmash

Early July, the sea trials of "Vikramaditya" were witnessed by Rear Admiral Sergey Popov, Head of State Acceptance Committee and Deputy Fleet Commander-in-Chief. He interacted with the Indian Specialists and discussed the schedule of sea trials including issues related to On Board Practical Training of Indian Seafarers. The ship was fuelled by "Orletz" tanker, which took part in exercises & demonstration of fuel transfer evolution.

The sea trials of "Vikramaditya" are thereafter, being monitored by Rear Admiral Hari Kumar, Chairman of Indian Delivery Acceptance Team for the Aircraft Carrier. During interaction with the Admiral, he appreciated the efforts of Sevmash in undertaking large work on the Project during the last eight months and commended the jointmanship of Indian and Russian specialists.

At present, approximately 1700 personnel, including Indian Crew, have embarked the Carrier and around 170 more Indian Crew are expected to arrive shortly for their On Board Practical Training and participating in Delivery Acceptance Trials.

The ongoing sea trials mainly include testing of Electronic Warfare Systems, Aircraft Maintenance Equipment on board and Gauging of Electric Fields. Most important of all, the trials of Main Propulsion Plant, which include the speed and maneuverability trials of the ship are being conducted in the White Sea.

As scheduled, "Vikramaditya" will proceed to the Barents Sea in early August, where trials of aircraft maintenance equipment featuring MiG-29K fighter planes will be conducted.