a
Naval Defense Industry News - USA
Raytheon's 5th generation hull mounted sonar to enable anti-submarine, undersea warfare
Raytheon Company was awarded a sub-contract from Science Applications International Corporation (SAIC) to deliver its first 5th generation medium frequency hull mounted sonar system as part of the Defense Advanced Research Projects Agency (DARPA) Anti-Submarine Warfare Continuous Trail Unmanned Vessel (ACTUV) program.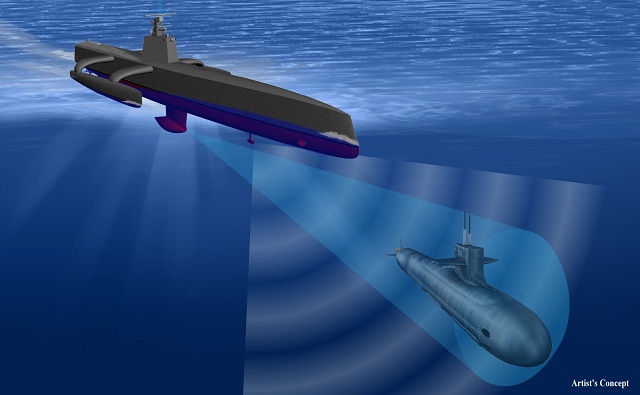 The Anti-Submarine Warfare (ASW) Continuous Trail Unmanned Vessel (ACTUV) is developing an unmanned vessel optimized to robustly track quiet diesel electric submarines.
(Picture: DARPA)

According to the U.S. Navy, 43 nations operate more than 600 submarines; the steady increase in undersea vessels makes tracking a challenge. Raytheon's Modular Scalable Sonar System (MS3) will integrate into SAIC's prototype trimaran vessel as the primary search and detection sonar. The system is designed to provide search, detection, passive-threat filtering, localization and tracking capabilities without requiring human operation.

MS3 enables anti-submarine warfare (ASW) and undersea warfare with capabilities such as active and passive search, torpedo detection and alertment, and small object avoidance. Data from multiple sonars may be fed to a central command and control node, providing a common operating picture as part of the ASW mission. By integrating a host of capabilities in a single sonar system, Raytheon delivers an affordable solution that addresses critical naval challenges.

"Historically, manned sonars were central to anti-submarine warfare missions. However, the growing number of submarines traversing the world's oceans makes this model unsustainable," said Joe Biondi, vice president of Advanced Technology for Raytheon's Integrated Defense Systems business. "By leveraging Raytheon's heritage in developing undersea sensors, MS3 can be configured to provide the capabilities required for ASW in an autonomous environment."