a
Naval Forces News - China, Chile
PLAN's taskforce conducts maritime joint exercise with Chilean Navy
A taskforce of the Navy of the Chinese People's Liberation Army (PLAN) which is composed of the guided missile destroyer "Lanzhou" and the guided missile frigate "Liuzhou" carried out a maritime joint exercise with the frigates "Lynch" (FF-07) and "Capitán Prat" (FFG-11), and five airplanes of the Chilean Navy on October 10, 2013.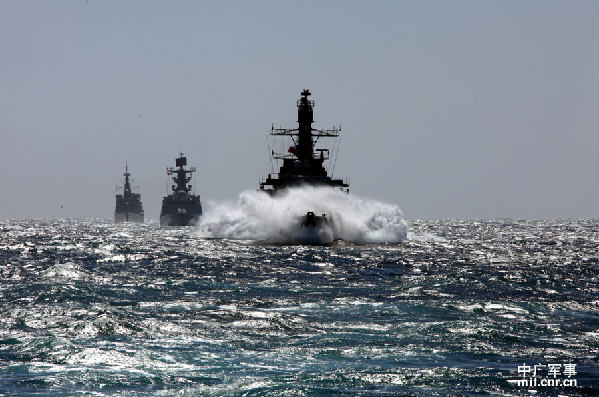 The picture shows that the PLAN's taskforce is sailing in the tough sea. (mil.cnr.cn/Tao Hongxiang)
This was the first flight test for the advanced sensor, which autonomously located and targeted a moving surface ship. Offering capabilities not available in currently fielded cruise missile systems, LRASM is a next-generation missile being developed as an advanced prototype for rapid transition to the U.S. Navy.

"The first live fire LRASM test verified our long range sensor's accuracy detecting and identifying targets," said David Logan, vice president and general manager of Technology Solutions at BAE Systems. "Its performance validated the sensor's signal processing algorithms, as well as its reliability under the environmental stresses of a missile flight."

The new sensor is designed for situations where access to the airspace is made difficult for Allied Forces by the enemy. The sensor uses advanced electronic technologies to detect targets within a complex signal environment, and then calculates precise target locations for the missile control unit. This was the first of three air-launched flight tests scheduled for LRASM.