a
Naval Defense Industry News - USA
Raytheon tests new passive seeker for Tomahawk Block IV cruise missile
Raytheon Company successfully completed a passive seeker test designed for a Tomahawk Block IV cruise missile using company-funded independent research and development investment. The captive flight test, using a modified Tomahawk Block IV missile nose cone, demonstrated that Raytheon's advanced, next-generation; multi-function processor can enable the cruise missile to navigate to and track moving targets emitting radio frequency signals.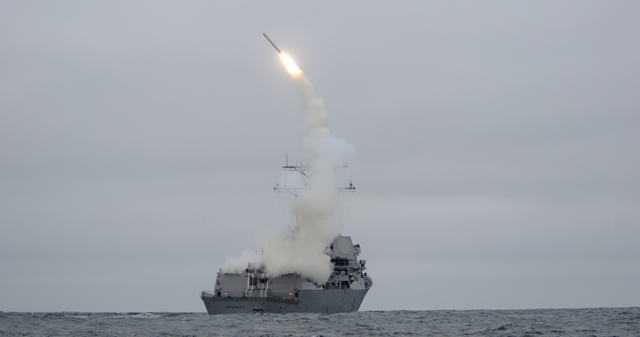 PACIFIC OCEAN (June 23, 2010) A Tomahawk missile begins its tip-over phase of flight after being launched from the guided-missile destroyer USS Sterett (DDG 104) (U.S. Navy photo by Mass Communication Specialist 1st Class Carmichael Yepez/Released)
For the test, the nosecone of a Tomahawk Block IV missile was equipped with passive antennas integrated with Raytheon's new modular, multi-mode processor, and fitted to a T-39 aircraft. Flying at subsonic speed and at varying altitudes, the aircraft simulated a Tomahawk flight regime. The passive seeker and multi-function processor successfully received numerous electronic signals from tactical targets in a complex, high density electromagnetic environment.

"Completion of this test is a significant milestone in Raytheon's effort to quickly and affordably modernize this already advanced weapon for naval warfighters," said Mike Jarrett, Raytheon Air Warfare Systems vice president. "We have assessed our company-funded multi-mission processor at Technical Readiness Level 6, enabling it to move to the engineering, manufacturing and development phase. Besides Tomahawk, the processor could be used in other sophisticated weapon systems."

A Raytheon-funded active seeker test with the company's new processor inside a Tomahawk nosecone is planned for early next year. That event will demonstrate the processor's ability to broadcast active radar as well as passively receive target electromagnetic information – a critical step in enabling the missile to strike moving targets on land and at sea.

About Tomahawk Block IV
With a range of approximately 1,000 statute miles, the Tomahawk Block IV missile is a surface- and submarine-launched precision strike stand-off weapon. Tomahawk is designed for long-range precision strike missions against high-value and heavily defended targets. More than 2,000 Tomahawks have been employed in combat. More than 500 Tomahawk flight and production validation tests have been completed. The missile is integrated on all major U.S. surface combatants, as well as U.S. and U.K. sub-surface platforms, including the Los Angeles, Virginia, Ohio, Astute and Trafalgar class submarines.