a
Naval Forces News - India
Russia's Sevmash shipyard to Maintain Indian Navy Aircraft Carrier INS Vikramaditya
Russia will sign a contract with India soon to provide after-warranty maintenance for the Indian aircraft carrier Vikramaditya, CEO of the Sevmash shipyard, part of Russia's United Ship-Building Corporation, Mikhail Budnichenko said on Monday.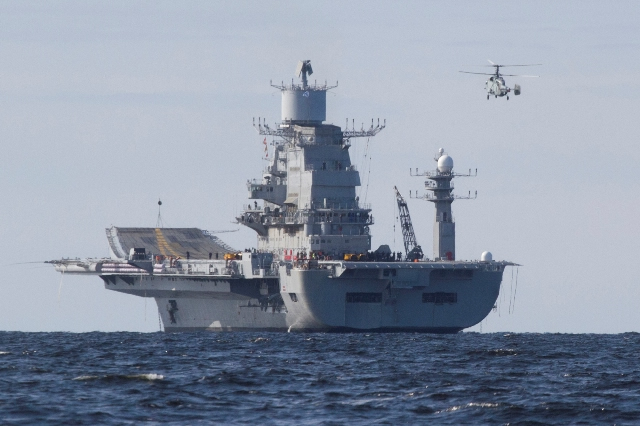 INS Vikramaditya, ex-Admiral Gorshkov. Picutre: Sevmash

The ship Vikramaditya is the former Russian-made Project 11434 aircraft carrier Admiral Gorshkov transferred to the Indian Navy after its upgrade.
"As for the after-sale service as an integral part of the aircraft carrier's after-warranty maintenance, the issue is currently under discussion with the Indian side. A final decision is expected in the imminent future at the next round of talks," Budnichenko said.
In 2015, the Sevmash shipyard has fulfilled its obligations to provide warranty services for the aircraft carrier's equipment, except for its several systems, and switched to its after-warranty maintenance, Budnichenko said.
The Sevmash is assisting the Indian Navy in providing maintenance services for some of the aircraft carrier's equipment.
"We continue cooperating with our Indian partners actively. The Indian Navy commanders have said that all the ship's systems and mechanisms allow its crew to accomplish assigned missions," the CEO said.
According to Budnichenko, the aircraft carrier and deck-based aviation are being used "very intensively." Meanwhile, a group of Russian specialists staying in India on a permanent basis "is removing the ship's imperfections quickly and providing for its maintenance at a high professional level" in close cooperation with its crew and Western Fleet commanders, Budnichenko said.
The Indian Navy received the aircraft carrier from Russia in November 2013 after the Sevmash shipyard modernized it. Under a package intergovernmental agreement signed in New Delhi in 2004, India received the hull of the Russian-made aircraft carrier Admiral Gorshkov for free but on the condition that it would be modernized at the Sevmash shipyard and armed with Russian-made aircraft.
After the repairs, the aircraft carrier Vikramaditya has a displacement of 45,400 tons, a length of 283 meters and a hangar length of 130 meters.
The ship has a modern flight deck and a ski-jump ramp for aircraft takeoff, navigation and radar systems, aircraft communication and control systems and other special equipment and mechanisms.
The aircraft carrier has a full speed of 29 knots and endurance of 7,000 miles at a speed of 18 knots. The ship can carry 30 aircraft, including Mikoyan MiG-29K/KUB (NATO reporting name: Fulcrum-D) multipurpose fighter jets and Kamov Ka-27/Ka-31 (Helix) helicopters. The ship's crew totals 1,200 with a 450-strong air wing.

© Copyright 2015 TASS. All rights reserved. This material may not be published, broadcast, rewritten or redistributed.