a
Naval Industry News - UK
L-3 to Provide Integrated Platform Management System for UK Type 26 Global Combat Ship
L-3 Marine Systems UK announced today that it has been awarded a design development agreement from BAE Systems for the initial design and development activities to support ship integration of its Integrated Platform Management System (IPMS) for the UK Royal Navy's
Type 26 Global Combat Ship
.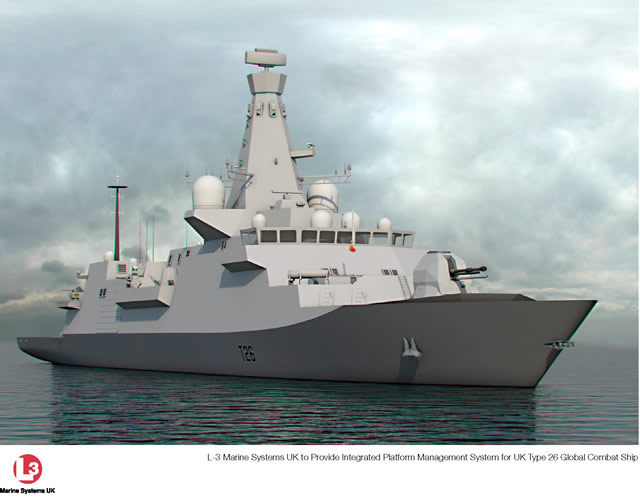 Using core technology developed by Montreal, Canada-based affiliate L-3 MAPPS, the company will perform the initial design and development activities to support ship integration at its facilities in Bristol, Burgess Hill and Barrow-in-Furness. The Type 26 Global Combat Ships are being designed by BAE Systems for the UK Ministry of Defence to replace the Type 23 Frigates currently in service with the Royal Navy.
"Our advanced IPMS will enable these next-generation ships to achieve high levels of operational effectiveness under the most adverse conditions," said Roger Baker, general manager of L-3 Marine Systems UK. "We are very pleased to be a key supplier to BAE Systems on the Type 26 Global Combat Ship programme."
The L-3 IPMS is based on proven and survivable control systems technology that has been delivered by L-3 MAPPS to over 160 ships and submarines in 18 navies worldwide. The IPMS on the Type 26 Global Combat Ship will provide automated monitoring and control of the propulsion, electrical, auxiliary and damage control systems together with an embedded onboard team trainer. The system will provide the flexibility to enable watch-keeping and damage control teams to operate safely under all operational conditions while meeting the stringent reduced manning requirements of the project.
L-3 has a longstanding relationship with the Royal Navy, supplying and supporting land-based trainers and platform management systems for major platforms such as the Royal Navy's Landing Platform Docks (HMS Albion & Bulwark), the Astute Class submarines (HMS Astute, Ambush & Artful), and the new aircraft carriers (HMS Queen Elizabeth and Prince of Wales). L-3 is also joint prime contractor for the 30-year Astute Class Training Service private finance initiative through its special-purpose vehicle, FAST Training Services Ltd., providing a complete scope of crew training for the nuclear-powered Astute Class submarines.
Link to Type 26 Global Combat Ship technical datasheet