a
Naval Forces News - Malta
Malta buys third Beechcraft MPA to Tackle Increased Refugee Numbers Crossing the Mediterranean
Malta moved forward with the procurement of a third maritime patrol aircraft, to tackle the increasing number of immigrants crossing the Mediterranean. The deal was signed between the commander of the Maltese Armed Forces, Brigadier Jeffrey Curmi and Aerodata's President and CEO, Hans J. Stahl.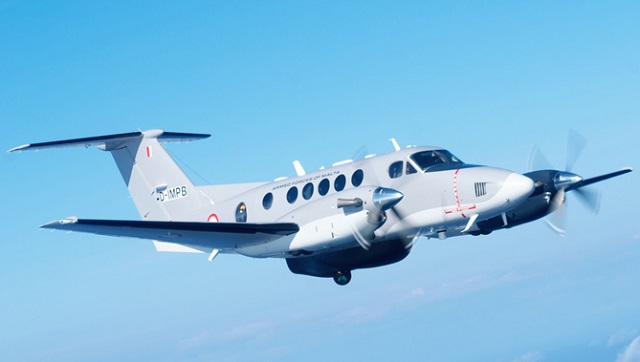 Beechcraft King Air B200 of Malta Armed Forces
The acquisition will be funded by the EY 2014-20 Internal Security Funds. The platform will be a Beechcraft King Air B200 and will join the two aircraft of this type, already in service with Malta's Armed Forces. The new platform will be equipped with a belly-mounted radar, a forward-looking infrared (FLIR) system, an SAR direction finder, satellite communication and data transmission systems, and other sensors that will allow it to carry out effectively surveillance and SAR missions.

The aircraft will be delivered in 2017 after the conclusion of the modification works. These will be implemented at Aerodata's facilities in Braunschweige airport, in Germany. King Air B200 are twin-engine aircraft with an endurance of four hours. Malta's Armed Forces operate them with a crew of two pilots, one mission systems operator and two observers.