a
Naval Forces News - Russia
Su-30SM fighter to replace Su-24M bomber in Black Sea Fleet Naval Aviation in 2016
The Su-30SM (NATO reporting name: Flanker-H) will replace the Su-24M (Fencer-D) tactical bomber in the air branch of the Russian Navy Black Sea Fleet in 2016, Nikolai Voznesensky, acting chief, fleet press office, told journalists on Thursday.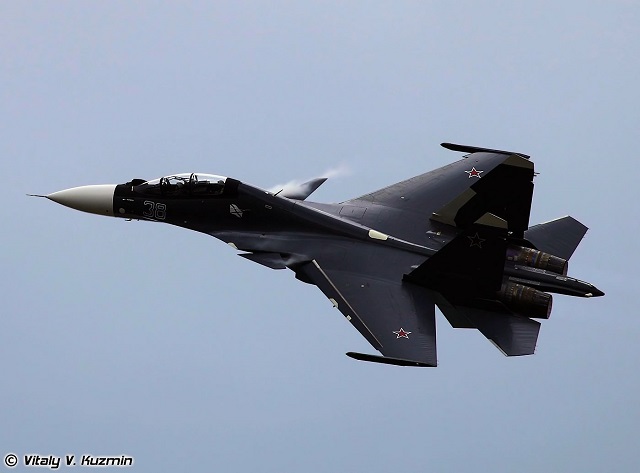 Su-30SM of the Russian Navy Black Sea Fleet in demonstration at MAKS 2015. Picture: V. Kuzmin

"Under the 2016 Black Sea Fleet re-armament plan, the naval aviators will receive several Su-30SMs. 20 Black Sea Fleet naval pilots will convert to aircraft of new types in January next year," Voznesensky said.

According to him, the transition to advanced warplanes has added more weapons to the ones Black Sea Fleet aviators employ in exercises.

As was reported in the press, the Black Sea Fleet's separate naval attack air regiment stationed in Crimea formed an air squadron of advanced Su-30SM multirole fighters. The fleet has eight of the type now. They are designed for the gradual replacement of the Su-24M tactical bombers in the fleet's inventory.

The Su-30SM multirole fighter (SM stands for 'production, upgraded' in Russian) is dual-hatted as both air superiority fighter and strike aircraft dealing with surface threats. It is equipped with canards and swiveling-nozzle engines, with the solutions having turned it into a supermaneuverable aircraft. The Su-30SM carries the Bars multirole radar and a wide range of munitions, including air-to-air missiles and air-to-surface smart bombs and missiles. The Su-30SM can be used as combat trainer for pilots of future single-seat fighters. The type has been in production from the Russian Air Force since 2012.

© Copyright 2015 TASS. All rights reserved. This material may not be published, broadcast, rewritten or redistributed.