a
Naval Forces News - USA
Orbital ATK's AARGM Block 1 Software Upgrade Missile Scores Direct Hit in U.S. Navy Test
Orbital ATK, a global leader in aerospace and defense technologies, and the U.S. Navy successfully launched and scored a direct hit against an advanced enemy air defense radar system during a live fire test of the AGM-88E Advanced Anti-Radiation Guided Missile (AARGM) Block 1 Software Upgrade at China Lake Naval Air Warfare Center on Sept. 22, 2015.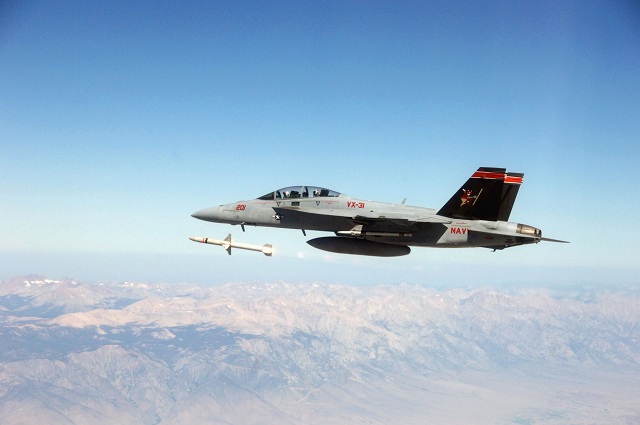 The AARGM is test fired from an F/A-18D at China Lake, Calif. in June 2012.
(U.S. Navy photo)

The AARGM Block 1 Software Upgrade shot was launched from a U.S. Navy F/A-18F Super Hornet in a complex scenario designed to test the missile's capability against an advanced air defense radar threat. Prior to launch, AARGM successfully detected, identified and located the target using its anti-radiation homing receiver. This information was relayed directly to the pilot who then launched the AARGM in Target of Opportunity mode. The missile's millimeter wave radar located the target and performed terminal guidance resulting in a direct hit on the target.
"The AARGM Block 1 Software Upgrade testing successfully demonstrated the missile's performance in a very challenging tactical scenario," said Cary Ralston, vice president and general manager of Orbital ATK's Defense Electronic Systems division of the Defense System's Group. "This was a key test in the steps to roll this upgrade out to our warfighters."
"This is the second live fire test of the AARGM Block 1 Software Upgrade," said Gordon Turner, vice president of programs, business development and strategy for Defense Electronic Systems. "Another key attribute of the Block 1 upgrade capability, engagement of moving ships, was successfully demonstrated a few weeks earlier further validating the versatility and capability of the weapon."
(U.S. Navy video)
Orbital ATK participated in the missile firing as a member of the U.S. Navy's Integrated Product Team, led by the Direct and Time Sensitive Strike Program Office, PMA-242.
Additional test team members included Naval Air Warfare Center Weapons Division – China Lake, Air Test and Evaluation Squadron Three One, and Air Test and Evaluation Squadron Nine.
AARGM is a supersonic, air-launched tactical missile system, upgrading legacy AGM-88 HARM systems with advanced capability to perform Destruction of Enemy Air Defense and time sensitive strike missions. AARGM provides the most advanced system for pilots with in-cockpit, real-time electronic order of battle situational awareness against today's modern surface-to-air threats. AARGM is able to rapidly engage advanced land- and sea-based radar air-defense threats, as well as non-radar, time-sensitive strike targets.
AARGM is a U.S. Navy and Italian Air Force international cooperative major acquisition program with the U.S. Navy as the executive service. AARGM achieved Initial Operational Capability in July 2012 and was approved by the Navy for Full Rate Production in September 2012. AARGM is currently deployed with the U.S. Navy and U.S. Marine Corps on the F/A-18C/D Hornet, FA-18E/F Super Hornet and E/A-18G Growler aircraft, and is being integrated for use on the Italian Air Force's Tornado ECR aircraft.