a
DEFEXPO 2014 Daily News - Goa Shipyard OPV
Goa Shipyard unveils new OPV design for export at DEFEXPO 2014
At DEFEXPO 2014, Indian shipbuilder Goa Shipyard Limited unveiled for the first time a new 75 meters Offshore Patrol Vessel (OPV) design. According to a Goa shipyard representative, this new OPV which is partially based on the existing 105 meters Saryu class OPV, is mainly intended for the export market.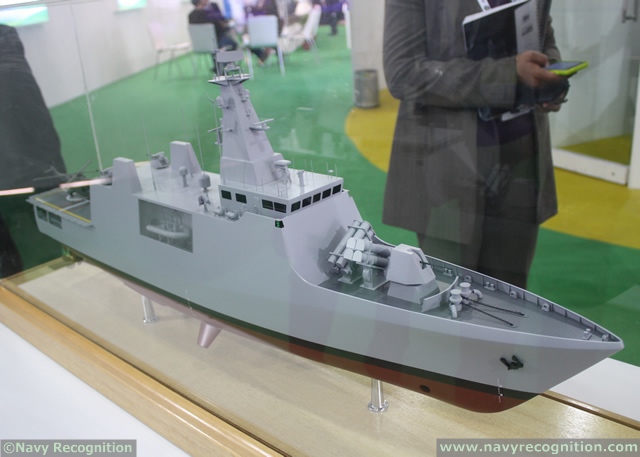 Goa Shipyard's new 75 meters OPV design unveiled at DEFEXPO 2014
Picture: Navyrecognition
Goa Shipyard's latest design is 75 meters in length. It is a fully in-house designed project. The vessel is capable of day and night patrolling and policing operations, search and rescue operations. It is capable to accomodate a 5.5 ton helicopter for long range all time surveillance missions.

Fitted with two diesel engines, each driving a controllable pitch propeller through a reduction gear box, the vessel delivers a maximum speed of 25 knots. The range of the vessel is 3000 nautical miles. The vessel is equipped with an integrated Platform Management System and an Integrated Bridge System.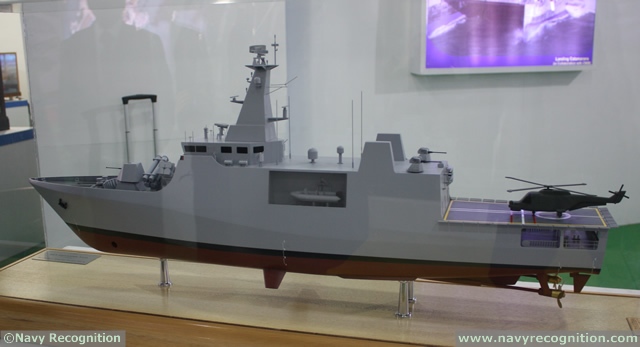 Goa Shipyard's new 75 meters OPV is intended for export
Picture: Navyrecognition
The vessel may be fitted with a 76mm main gun, two 30mm guns on top of the helicopter hangar and other weapons as per clients choice.

Ship main characteristics:
Length overall: 74.80 m
Breadth moulded: 11.50 m
Draft: 3.60 m
Displacement: approx. 1440 tons
Crew: 12 Officers, 52 Sailors