a
PACIFIC 2015 Show News - BAE Systems Australia
BAE Systems ready to start sustaining Australia's NUSHIP Adelaide LHD
Lessons learned from supporting Australia's largest warship, HMAS Canberra, will benefit the Royal Australian Navy when its sister ship enters service later this year, according to prime contractor BAE Systems. The company has just completed the first 12 months of a four-year, $220 million program with responsibility for sustaining the new, first-of-class Landing Helicopter Dock.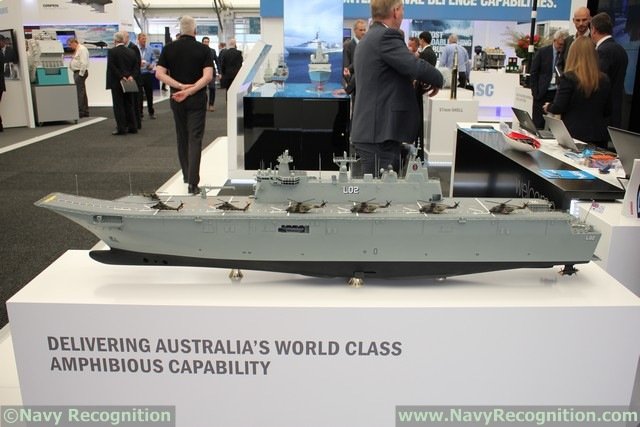 HMAS Canberra LHD scale model at Pacific 2015
During this year, BAE Systems Australia has:
· Developed over 1000 preventive maintenance work instructions, key to the ongoing sustainment of the Canberra class,
· Provided maintenance services at Sydney, Townsville, Hobart and at sea under a continuous maintenance regime,
· Inducted and managed 495 maintenance personnel working on board this new class of ship and
· Performed almost 350 preventive and corrective maintenance tasks.
The RAN has regularly acknowledged the Company's efforts which have ensured the ship has been kept fully operational during intensive and complex joint training exercises, and integrated with other elements of the Australian Defence Force amphibious capability.
In June 2015 the departing Commanding Officer for HMAS Canberra, Captain Jonathan D. Sadleir AM, said "The ship is well aware of the demands it places on the system and the fact that it is by no means a solo effort as it continues to move forward and all should take a certain amount of pride in the current outcome. Being a member of the team that supported the entry into service of the Royal Australian Navy's largest warship is not something that many will be able to lay claim to."
Later this year, the Company's In Service Support team will also assume responsibility for HMAS Canberra's sister ship, NUSHIP Adelaide, when she enters service.
Glynn Phillips said: "Our intimate knowledge of these warships gained through our role as prime contractor for the build, integration, testing and delivery, combined with our proven track record supporting the RAN fleet was why the Commonwealth of Australia chose BAE Systems as its sole source in service support contractor for the LHDs.
"The challenge of keeping 60,000 components of ship's equipment in working order has tested the ship's maintenance staff, the Fleet Support Unit, and our In Service Support professionals working as one team with the CASG Landing Helicopter Dock Systems Program Office (LHDSPO).
"We have provided the engineering, maintenance and support services needed to keep this huge and complex warship in top operating condition by applying our knowledge and capabilities, our network of capable subcontractors and suppliers and our close working relationship with our CASG and RAN colleagues.
"The lessons we have all learned around sustainment of Canberra will ensure that we can apply the most efficient and cost-effective sustainment techniques to keep NUSHIP Adelaide ready for duty as well."