a
Naval Industry News - Russia, India
Russia offers construction of Project 23000E Storm nuclear-powered aircraft carrier to Indian Navy
Russia has offered the Indian Navy to build a Project 23000E Storm-class nuclear-powered aircraft carrier, a source in the Indian Ministry of Defense told the Defense News weekly. According to the source, the offer was made during the visit of a Russian delegation to India several days ago.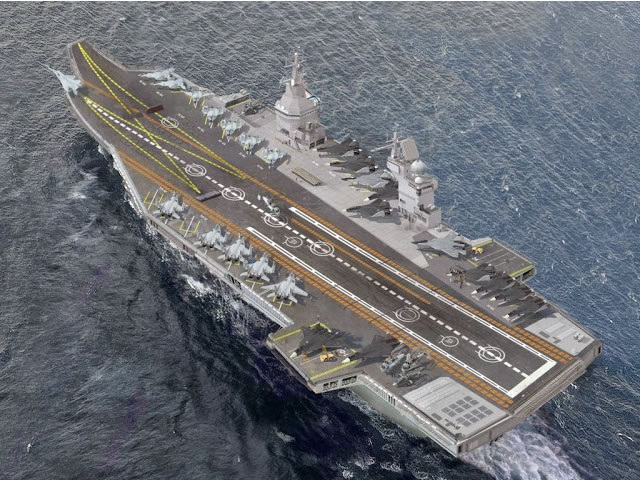 A nuclear powered Project 23000E Storm aircraft carrier may displace 80,000 to 85,000 tonnes with some 70 aircraft on board.
As was reported in the press, the design of Russia's Storm nuclear-powered aircraft carrier will serve the basis for building a ship in the class for the Indian Navy. The Russian offer is the leader of the technological race, in which the United States and France are taking part too. A final decision will be made during the tender about to be held by New Delhi. A key issue of the carrier's construction is technology transfer. At present, only Moscow is willing to transfer technologies in addition to weapons and other equipment.

The Project 23000 multirole aircraft carrier is designed for operations far in the ocean, attacks on land-based and naval targets, provision of combat stability for friendly naval forces and air defense of Marines and supporting ships during amphibious assaults. The future ship is supposed to displace about 95,000 tons, measure 330 m long and have a speed of 30 knots. The carrier is to carry sophisticated radio equipment, radars and self-defense systems. Her complement will be several thousand servicemen, including the personnel of her air wing.

© Copyright 2016 TASS. All rights reserved. This material may not be published, broadcast, rewritten or redistributed.