a
Naval Forces News - Russia
Russian Navy Hopes to get its 1st Project 22350 Frigate Admiral Gorshkov in November 2016
The
Project 22350
lead frigate Admiral Gorshkov is planned to be delivered to Russia's Navy in November 2016, Chief of the Russian Armed Forces' Armament Department Lieutenant-General Anatoly Gulyayev said on the single military hardware acceptance day.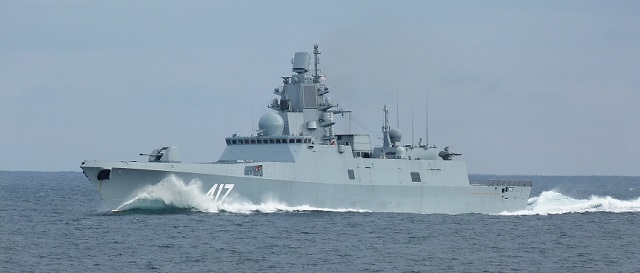 The first ship of the new Russian Navy frigate project 22350 class "Admiral Gorshkov" at full speed

However, there are certain problems with air defense missile systems designed for ships of this type, Gulyayev added. According to him,
"as for the Poliment-Redut shipborne air defense missile system, no positive result of the use of surface-to-air missiles developed by the Fakel Enterprise and designed for the Project 20380 corvette and the Project 22350 frigate has been received yet."

As the department head said, this problem may postpone the delivery date though the ship is scheduled to be delivered to the customer in November 2016. In the second quarter of 2016, a number of enterprises failed to fulfill state contracts on time and were behind the schedule.
"The Motovilikha Plants disrupted 2015 state contracts for the delivery and upgrade of Tornado-S multiple rocket launch systems and 2S9-1M and 2S1 self-propelled artillery systems,"
Gulyayev added. According to him, Russia's armor manufacturer Kurganmashzavod will deliver BTR-MDM Rakushka armored personnel carriers to the Airborne Force later than scheduled. The repair and upgrade of long-range aircraft are behind the schedule at the Tupolev Company.
"The Sozvezdiye Enterprise is behind the schedule with the delivery of communications equipment and self-propelled artillery systems that were planned to be delivered in 2015,"
Gulyayev added.
The Project 22350 lead frigate Admiral Gorshkov is currently undergoing trials with Russia's Northern Fleet, the defense minister said.
Russian Navy Deputy Commander-in-Chief Vice-Admiral Alexander Fedotenkov said earlier that the Navy was planning to receive the new frigate in late 2016.
The Project 22350 frigate Admiral Gorshkov was laid down in early 2006 and put afloat in the autumn of 2010. The ship started undergoing trials in November 2014.
The second Project 22350 frigate Admiral Kasatonov was floated out in 2014.
The third frigate Admiral Golovko is expected to be put afloat in 2016.
© Copyright 2016 TASS. All rights reserved. This material may not be published, broadcast, rewritten or redistributed.


Link to
Admiral Gorshkov (Project 22350) Frigate technical datasheet