a
Naval Forces News - Russia
Russian Navy Slava-class Cruiser Varyag (Project 1164 Atlant) hits coastal target in live-firing drills
Russia's Project 1164 missile cruiser Varyag has used the P-1000 Vulkan system to hit a coastal target at the Kura practice range in Kamchatka in Russia's Far East, the Russian Eastern Military District's press office said.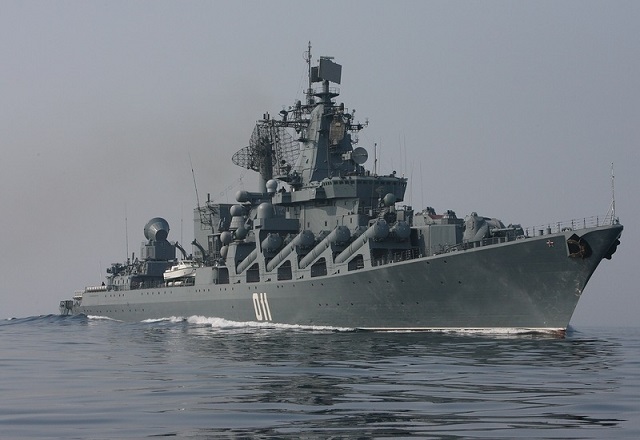 The Slava-class Cruiser Varyag
"In accordance with the fleet combat training program, the missile cruiser Varyag launched a cruise missile from the Sea of Okhotsk to hit a coastal target at the Kura practice range in Kamchatka," the press office said. "The missile cruiser Varyag accomplished the task of hitting the land target at a maximum range with the use of its main missile system. The cruise missile successfully hit the land target," the press office added.

According to the press office, the live-firing exercise was held in heavy electronic countermeasures environment.

After the live-firing exercise, the missile cruiser Varyag practiced air defense and electronic warfare.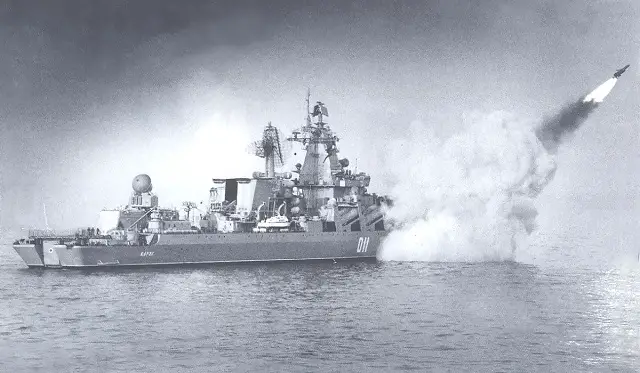 A P-1000 Vulkan missile is launched from missile cruiser Varyag in 1994
The Project 1164 Atlant-class cruisers are designed for dealing with enemy surface combatants and providing combat stability of Russian task forces in remote corners of the ocean. The development of the class began in the later 1970s. Four cruisers were built, of which three are in the Russian Navy's inventory. The cruisers in the class displace a total of 11,500 tons and measure 186 m in length. They have a full speed of 32 knots, a range of 7,500 nm at 18 knots, a 130-mm AK-130 gun, antiship and air defense missile systems, 30-mm AK-630M antiaircraft guns and torpedoes. They can carry a Kamov Ka-27 (Helix) helicopter or derivatives thereof.

© Copyright 2016 TASS. All rights reserved. This material may not be published, broadcast, rewritten or redistributed.