a
Naval Forces News - USA
Video: US Navy F-35C Carrier Variant Starts AGM-154 JSOW Qualifications
The US Navy released a video showing a F-35C Lightning II test aircraft (the carrier variant of the JSF Joint Strike Fighter) conducting the first weapon separation test of an AGM-154 Joint Standoff Weapon (JSOW). The drop test marks the beginning of the qualifications campaign for this weapon. It took place on March 23 at the NAVAIR Atlantic Test Range with aircraft CF-05 assigned to the Air Test and Evaluation Squadron (VX) 23.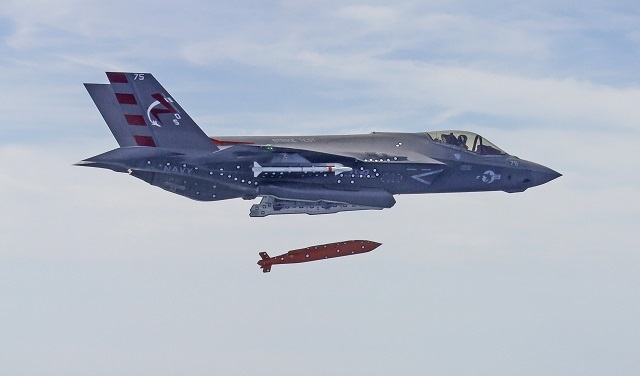 A US Navy F-35C test aircraft releases a JSOW from its weapons bay for the first time.
Source: F-35 Integrated Test Team
JSOW fits inside the weapons bay of the F-35. Until this test, the F-35 has only realesed satellite-guided Mk80-series bombs equipped with Boeing Joint Direct Attack Munition (JDAM) tail kits from its internal weapons bay.
US Navy video
Designed by Raytheon, JSOW is a family of combat proven, low-cost air-to-ground weapons that employ an integrated GPS-inertial navigation system, with highly capable guidance algorithms; and is the only U.S. standoff weapon in production to fit internally in the Joint Strike Fighter. More than 5,000 JSOWs have been produced since 1997, with more than 400 employed in combat. JSOW C prosecutes stationary land targets, and uses an imaging infrared seeker for increased accuracy in the terminal phase. The JSOW C-1 variant adds the two-way Strike Common Weapon Datalink enabling additional target sets with critical moving maritime target capability.

JSOW C and C-1 are designed to provide fleet forces with robust and flexible capability against high-value targets, at launch ranges exceeding 100 kilometers. The new JSOW C-1 combines the proven, precision, standoff land attack capabilities from JSOW C, with the new, state-of-the-art Link 16 data link to also engage moving maritime targets. The JSOW C-1 variant adds a two-way Link 16 data link to engage and destroy moving targets, as well as stationary land targets.