a
Naval Defence Industry News - Russia, Egypt
Egypt wants to purchase Russian-made radio electronic equipment for Mistral LHDs
Egypt has asked Russia to deliver radio electronic equipment for the Mistral-class helicopter carriers, which Cairo has purchased from France, a military and diplomatic source told TASS on Wednesday. "The Egyptian military delegation that held talks with Russia's arms exporter Rosoboronexport said that it wanted to mount Russian-made radio electronic equipment, including electronic warfare systems, on the Mistral-class ships purchased from France and asked Russia to deliver it," the source said.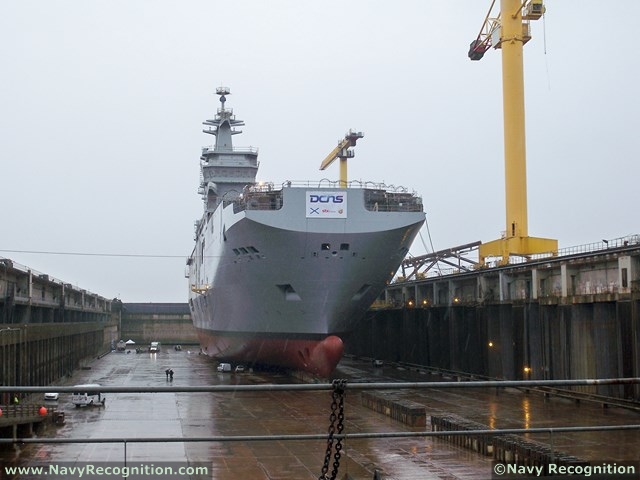 The former Russian Navy Mistral class LHD Vladivostok
According to the source, Egypt is planning to submit a request for certain items of radio electronic equipment at the next round of talks with Rosoboronexport that may be held in April-May. TASS does not have comments from Rosoboronexport.
It was reported earlier that Russia and Egypt were discussing the delivery of Russian-made communications and control systems for the Mistral-class helicopter carriers. It was reported in late February that a final decision had not been taken yet.
Russia may also deliver the Kamov Ka-52K shipborne version of the Ka-52 Alligator (NATO reporting name: Hokum-B) helicopter to Egypt. The Ka-52K helicopter has been specifically developed for the Mistral-class ships.
According to Russian presidential Chief of Staff Sergei Ivanov, Egypt may purchase Russian-made helicopters and equipment designed for the Mistral-class ships for more than one billion dollars.
© Copyright 2015 TASS. All rights reserved. This material may not be published, broadcast, rewritten or redistributed.

Check out our technical datasheet to learn more about the Mistral class