a
Naval Forces News - USA
Future Freedom-class Littoral Combat Ship USS Detroit (LCS 7) Delivered to U.S. Navy
Within the Littoral Combat Ship Program (LCS), the consortium consisting of Fincantieri, through its subsidiary Fincantieri Marinette Marine (FMM), and Lockheed Martin Corporation, has delivered "Detroit" (LCS 7) to the US Navy at FMM's shipyard in Marinette, Wisconsin.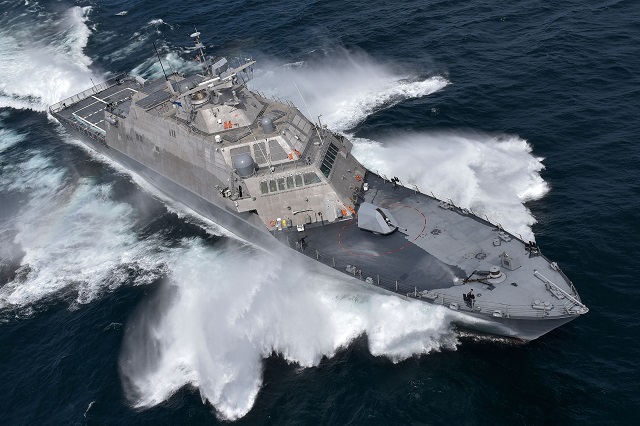 The future USS Detroit, the fourth Freedom-variant Littoral Combat Ship delivered to the U.S. Navy, underway during Acceptance Trials on July 13, 2016. The future USS Detroit will be commissioned in Detroit on Oct. 22, 2016.. Picture: Lockheed Martin

"Detroit" is the fourth Freedom-class ship delivered by the consortium, and itis part of a program started in 2010, which comprises 11 units, all fully funded, on top of the two units delivered before 2010 ("Freedom" - LCS 1 and "Forth Worth" - LCS 3).The other 10 ships delivered or in productionare:"Milwaukee" (LCS 5), "Little Rock" (LCS 9), "Sioux City" (LCS 11), "Wichita" (LCS 13), "Billings" (LCS 15), "Indianapolis" (LCS 17), "St. Louis" (LCS 19), "Minneapolis/St. Paul" (LCS 21), "Cooperstown" (LCS 23) and LCS 25.
The construction contract for the LCS Program Freedom-class was awarded to FMM in 2010, within the partnership by Lockheed Martin, global leader in the defense sector. The LCS Freedom-class is one of the US Navy's main shipbuilding programs and relates to a new generation of mid-sized multirole vessels, designed for surveillance activities and coastal defense for deep water operations as well as capabilities for addressing asymmetrical threats such as mines, silent diesel submarines and fast surface ships.2 LCS Freedom-class vessels have been successfully deployed to the Western Pacific, a third has been delivered in October 2015, 6 are under construction and 3 more in long-lead procurement.
Link to Freedom class LCS technical datasheet