a
Naval Forces News - Russia
Project 22870 Rescue Tug Delivered to Russian Navy's Caspian Flotilla
The advanced Project 22870 SB-738 rescue tug has joined the Russian Navy's Caspian Flotilla, the press office of the Southern Military District told journalists.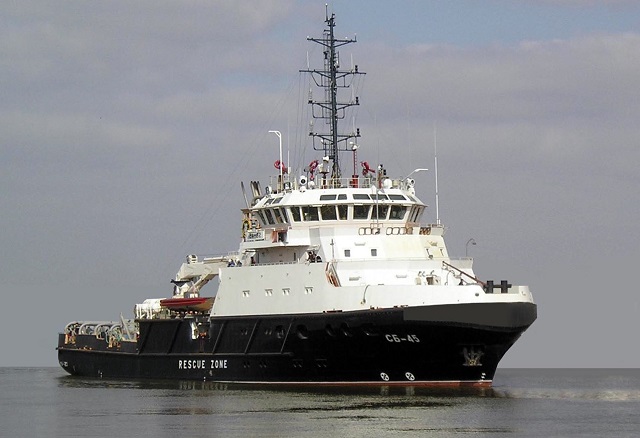 The first ship of the class, SB-45. Picture via bastion-opk.ru
"The tug was built by the Astrakhan-based affiliate of the Zvyozdochka Shipyard. This is the second vessel in the series to have been fielded with the Caspian Flotilla. The lead ship, the SB-45, was received by the flotilla in 2014 and has operated with success ever since," the press office said.

The SB-738's primary purpose is to tow and refloat ships and vessels, suppress fires on ships and at shore structures, evacuate personnel and render them medical assistance if required. Her onboard generators allow power to be supplied to a ship in distress while keeping the latter afloat by means of special pontoons. The tug's diving equipment allows diving operations at a depth of 60 m. In addition to search and rescue operations, the vessel can be used for oil spill removal and underwater examination.

© Copyright 2016 TASS. All rights reserved. This material may not be published, broadcast, rewritten or redistributed.