a
Naval Forces News - China
Video: Fifth batch of PLAN pilots qualify for Liaoning aircraft carrier flight certification
According to an
official statement
by the People's Liberation Army Navy (PLAN or Chinese Navy) released last week, a new batch of naval aviation pilots achieved their first landings and takeoffs aboard aircraft carrier
Liaoning
. These young J-15 pilots obtained their flight certification that allows them to conduct operation from and to the Chinese aircraft carrier.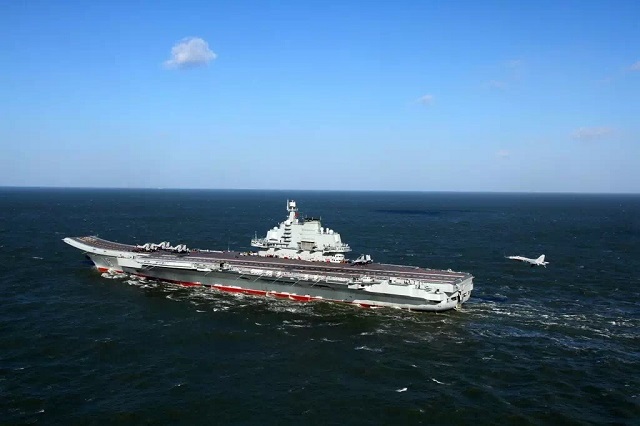 A J-15 about to "trap" on PLAN Aircraft Carrier Liaoning
These naval pilots are in the same class as ZHANG Chao, the student pilot who died on April 17 following issues with the fly-by-wire system on his J-15. This confirms that they are part of the Fifth batch of carrier pilots, trained since early 2013 at the naval air training center in Xingcheng.

This certification campaign took place in mid-August in the Bohai Bay. According to the statement, training focused on long range navigation, night-time helicopter operations, damage control and medical assistance on the flight deck and simulation of aircraft logistical support procedures at night.

This last point is particularly interesting because it confirms that Chinese J-15 pilots never (for the time being) conducted night-time carrier operations. It is also emphasized in the PLAN statement that the flight certification obtained by the naval pilots is of "day-time" type.

But if the sailors begin to simulate aircraft logistical support procedures at night, it means that the PLAN will still be conducting night-time carrier operations.
CCTV coverage of the certification of new PLAN pilots
According to the PLAN statement:
"The number of naval pilots and aircraft aboard the aircraft carrier and the intensity of sorties have reached unprecedented levels".

According to our colleagues from
East Pendulum
, here is the number of PLAN pilots certified for carrier ops:
» 1st batch: 5
» 2nd batch: 8
» 3rd batch: 6
» 4th batch: 6
» 5th batch: 6
For a total of 31 pilots to date.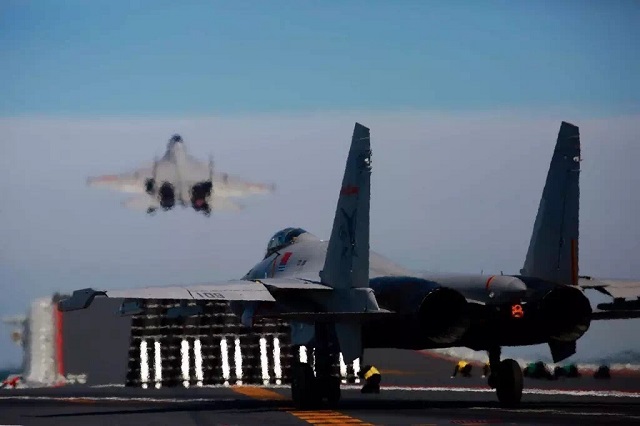 A J-15 takes off from PLAN Aircraft Carrier Liaoning
The PLAN now has two years left to train enough pilots to prepare for the induction of its second aircraft carrier, the Type 001A, in 2019. The carrier is currently under construction at the shipyard in Dalian.